The 3D enhanced Kingdom Hearts games won't reuse past worlds.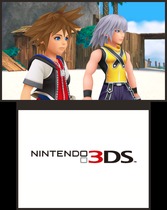 Kingdom Hearts creator and designer Tetsuya Nomura confirmed via Famitsu that Kingdom Hearts 3D won't be reusing Disney worlds from other games. Past handheld titles such as Kingdom Hearts: Chain of Memories and the upcoming Re:coded featured worlds from the previous titles. "Except for original worlds and Traverse Town", he said, "We plan to make all new Disney worlds."
Famitsu also asked Nomura why the title features Sora and Riku as children. "That's still a secret", he told the publication, but he then noted that having them as children is vital in the game's story. In addition, Nomura confirmed that the story in Kingdom Hearts 3D will tie into the story of Kingdom Hearts 3. "Perhaps, the ending of Kingdom Hearts 3D will continue in Kingdom Hearts III", he stated.