Several Nintendo entries made it onto the list.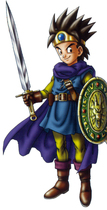 Square Enix has conducted a survey asking players to select which Dragon Quest title is their favorite at the official Dragon Quest site. The survey began on October 7, 2010, and ended on October 21, 2010. In addition to the games, players were also asked to select their favorite character and monster.
According to the results that were shared last Friday, Dragon Quest IX, the latest entry for the DS, was voted number one. Since its release, Dragon Quest IX has sold over four million copies in Japan. In second place is Dragon Quest VIII, released for the PlayStation 2. In third place is Dragon Quest III for the NES. Dragon Quest V for the Super NES is the fourth most popular game. Coming in at fifth place is the DS remake of Dragon Quest V. Several spin-off titles, such as Dragon Quest Monster Joker and Dragon Quest Sword also made it into the top thirty.
The winning monster character was the Slime, series's mascot and star of several Dragon Quest titles as well. Other variations of the Slime character, like the Metal Slime, also appeared on the list.
The winning hero character is the hero from Dragon Quest III. Side characters like Yangus from Dragon Quest VIII made an appearance on the top ten.
The full top 30 of the games is as follows:

1. Dragon Quest IX (DS)
2. Dragon Quest VIII (PS2)
3. Dragon Quest III (NES)
4. Dragon Quest V (SNES)
5. Dragon Quest V (DS)
6. Dragon Quest VI (DS)
7. Dragon Quest VII (PSX)
8. Dragon Quest IV (DS)
9. Dragon Quest Monsters Joker 2 (DS)
10. Dragon Quest VI (SNES)
11. Dragon Quest V (PS2)
12. Dragon Quest IV (NES)
13. Super Famicom Dragon Quest III (SNES)
14. Dragon Quest Monsters Joker (DS)
15. Dragon Quest II (NES)
16. Dragon Quest Monsters Battle Road Victory (Wii)
17. Dragon Quest (NES)
18. Dragon Quest IV (PSX)
19. Dragon Quest I&II (SNES)
20. Dragon Quest Monsters (Gameboy)
21. Dragon Quest Monsters Battle Road II/Legend (Arcade)
22. Dragon Quest Monsters Battle Road (Arcade)
23. Slime Mori Mori Dragon Quest 2 (DS)
24. Slime Mori Mori Dragon Quest (DS)
25. Torneko's Great Adventure: Mysterious Dungeon (SNES)
26. Gameboy Dragon Quest III (Gameboy)
27. Dragon Quest Monsters 2 (Gameboy)
28. Dragon Quest Sword (Wii)
29. Dragon Quest: Young Yangus and the Mysterious Dungeon (PS2)
30. Gameboy Dragon Quest I&II (Gameboy)