Or should we say OlliOlli Oxenfree?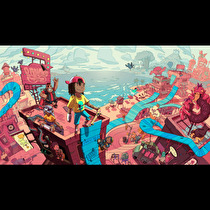 A full slate of upcoming Switch titles were revealed in today's first Indie World showcase. Aside from the games that are out today, companies big and small showed games headed to Switch over the next year.
Aerial_Knight's Never Yield is a music-based runner featuring an international soundtrack and a setting of "Tokyo-inspired Detroit": it launches on May 19 and a demo will be available later today.
Weaving Tides (developer: Follow the Feathers) puts you in the role of a weaver exploring ancient dungeons and trying to find secrets of the past. The current target release is May.
Ender Lilies: Quietus of the Knights (Binary Haze Interactive) is a 2D action RPG where fallen knights try to save their kingdom from a host of monsters. The tale begins on June 21.
Labyrinth City: Pierre the Maze Detective (Darjeerling), based on a children's book series, will bring multiple mazes to the Switch in spring.
Beasts of Maravalla Island (Banana Bird Studios LLC) stars a young wildlife photographer trying to catalogue the wildlife of the titular Maravalla Island. It is targeting a June release.
Cris Tales (Dreams Uncorporated) confirmed a July 20 release date in a new trailer.
KeyWe (Stonewheat and Sons) has two kiwi birds trying to get the mail delivered in the most insane postal facility possible. It is currently slated for August.
Two titles were announced from Annapurna Interactive: Last Stop (Variable State) is a third person adventure set in modern-day London starting three different characters and slated for summer, while Hindsight (Joel McDonald) is a narrative game about a woman's memory of her family coming some time in 2021.
Skul: The Hero Slayer (SouthPaw Games) is an action/roguelike hybrid where an "undying skeleton" fights through multiiple worlds with abilities gained by swapping heads. The boning up begins in summer.
art of rally (Funselektor Labs) is an overhead-perspective rally game due for release in summer.
Aztech: Forgotten Gods (Lienzo) is an exploration adventure from the developers of Mulaka that's set in an Aztec-inspired world. Find upgrades and discover secrets in the fall.
OlliOlli World (Roll7) is a skateboarding game that hues more toward story elements rather than the sport focus of the original two OlliOlli games. It's slated for a winter launch.
Teenage Mutant Ninja Turtles: Shredder's Revenge (Tribute Games) is a four-player brawler previously revealed without any platforms identified. Featuring graphical inspiration from the 1987 TMNT cartoon and a new cover of the classic theme by Mike Patton of Faith No More, the pizza gets delivered later this year.
Road 96 (DigixArt) is an adventure/puzzle hybrid that claims more than 148,000 story permutations depending on the choices made in the story. It will be out "later this year".
The House of the Dead Remake (Forever Entertainment) is the third title to be revealed as part of the agreement between Sega and Forever for new versions of classic Sega franchises. It is slated to be out later this year.
Oxenfree II: Lost Signals (Night School Studio) is the follow-up to the popular adventure title that launched on Switch in 2017. Set five years after the original, the story will continue sometime in 2021.
GetsuFumaDen: Undying Moon (GuruGuru) is the follow up to a Konami-created Famicom title that Konami will actually be publishing. The hack-and-slash rougelite is due to release in 2022.