Too, too many games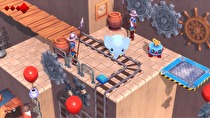 In addition to the announcements of No More Heroes: Travis Strikes Back, Shovel Knight: King of Cards, Super Meat Boy Forever, Kentucky Route Zero and the release date for SteamWorld Dig 2, there were more announcements at the Nindie Showcase today.
Mom Hid My Game: Coming to 3DS and Switch late 2017, exclusive stages.
Golf Story: Drone flights and minigolf included, September 2017 release.
Floor Kids: From Merge Media, breakdancing rhythm game with trick modes and battle modes. Original music by Kid Koala, first on Switch holiday 2017.
Wulverblade: Arcade-style fighting game set in ancient Britain, first on Switch in September.
Polybridge: Bridge building simulator, physics based puzzle solving game, console exclusive on Switch in Holiday 2017.
Earth Atlantis: Underwater shooter set in a climate-change shredded world, coming this fall.
Next Up Hero: Community focused action game, echoes created as players die. Created by Scribblenaut executive producer.
Mulaka: 3D action title with cel-shaded graphics, battle smythical creatures and wield the power of the gods. Exclusive Switch features, early 2018.
Yono and the Celestial Elephant: Adventure game in the style of Zelda, starring an elephant. October 12 release, console exclusive.
Dragon: Marked for Death: Side scrolling action RPG with 4 player MP (local and online). Developed by Inti Creates. Switch exclusive, winter release.
Battle Chef Brigade: From Trinket Studios and Adult Swim Games, Switch timed exclusive this holiday.
Morphies Law: Unreal Engine powered 4v4 shooter, characters can change their body by stealing mass from the opponent, goal is to build the largest avatar. Console exclusive, Winter launch.
Sausage Sports Club: Up to 8 players compete in a sports reality show. Fall 2017.
Light Fingers: 1-4 players navigate a proceduarly generated board game. Early 2018, Switch first.
Nine Parchments: From Frozenbyte (Has-Been Heroes, Trine), multiplayer shooter set in the Trine universe. Previously announced, but confirmed for Winter release.