We're adding Rabbids to everything, and the results are nightmarish indeed.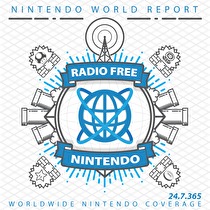 Subscribe via iTunes (Please rate and review, too!)
We've escaped Isle Delfino, and return to our normal show this week. Greg and James are both still early in Mario + Rabbids Kingdom Battle. Yes, Rabbids are objectively terrible, but this XCOM-inspired strategy crossover is a quite a bit of frustrating fun. Jon has a quick look at a pair of Housemarque games: Matterfall and Nex Machina, both on PS4. Nex Machina is of particular interest, as it borrows liberally from Robotron and Smash TV (including their designer) and could wind up on Switch one day. Guillaume wraps up New Business with a look at Mario Kart 8 Deluxe, liberated from his local library.
With some time to spare in the first segment, the team does a quick review of the Nindies event on Wednesday, and picks out some of the most interesting titles. No, but for real, Travis is back.
After the break, it's time for Listener Mail. This week we're asked: what's the next Rabbids crossover, when can we expect to see Mario and Sonic at the Olympics at the Olympics, what's holding back the video game equivalent of the "cinematic universe", and what it would take for Nintendo to prove to us that they're serious about online. You can write us questions that are obviously just things you want to hear us read out loud by sending us an email.
This episode was edited by Guillaume Veillette. The "Men of Leisure" theme song was produced exclusively for Radio Free Nintendo by Perry Burkum. Hear more at Perry's SoundCloud. The Radio Free Nintendo logo was produced by Connor Strickland. See more of his work at his website.
This episode's ending music is Freezeezy Peak from Banjo-Kazooie. It was selected by Greg to honor its composer Grant Kirkhope's work on Mario + Rabbids. All rights reserved by Rare and Microsoft