We've got heroes after all.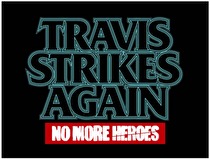 As promised in January, Travis Touchdown is back on a Nintendo console.
No More Heroes: Travis Strikes Again was announced at the end of today's Nindie Showcase. The followup to the 2008 and 2010 Wii games will release in 2018, and the Unreal-engine powered game will feature collaborations with prominent indie developers.