A follow-up to the cult hit with the high body count.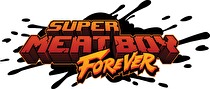 The newest adventure from Team Meat is hitting the Switch.
Super Meat Boy Forever, the follow-up to 2009 (2016 on Wii U)'s Super Meat Boy was revealed today during the Nindie Showcase. Meat Boy and Bandage Girl have to save their young child Nugget from the evil Dr. Fetus.
Expanded maps and daily challenges will also be a part of this new adventure.