Those who beat the average are making out like bandits.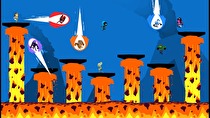 The Humble Friends of Nintendo Bundle has added three more games to the roster.
Buyers who beat the average ($9.74 at press time) will get codes for Nano Assault EX (3DS), Swords and Soldiers II (Wii U) and Runbow (Wii U) in addition to Freedom Planet, Rhythm Thief and Citizens of Earth. Existing buyers can sign into the Humble website to get the additional codes. The other tiers - $1 for Retro City Rampage DX, Affordable Space Adventures and Shantae and the Pirate's Curse, $13 for all the games plus Darksiders II and Super Street Fighter IV 3D, remain the same.
To date, over 100,000 bundles have been sold and the bundle has made over US$1m. The bundle will be available until 2 pm Eastern time / 11 am Pacific next Tuesday.