North Americans are going to have to act quickly.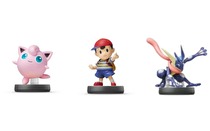 Three different Amiibo from the fourth wave of Super Smash Bros. figures have been confirmed to be retailer exclusive in North America. Jigglypuff will be sold only at Target, Greninja at Toys"R"Us, and Ness at GameStop.
Jigglypuff went live on Target's website earlier today and sold out in approximately 10 minutes. Ness will be sold at GameStop later today via Web-in-Store and on GameStop.com. Pre-orders for Greninja will begin at Toys"R"Us starting April 3rd.