Dark Pit, Olimar, Zero Suit Samus, Dr. Mario, and a whole bunch more on on the way in May, July, and September.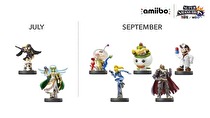 Three new Amiibo waves for Super Smash Bros. are on the way in the coming months, adding a whopping 15 more characters.
On May 29, the previously announced Charizard, Pac-Man, Wario, Ness, Lucina, and Robin Amiibo will finally release. Additionally, Greninja and Jigglypuff will come out on that day.
In July, Dark Pit and Palutena will both launch. In September, Olimar, Zero Suit Samus, Bowser Jr., Ganondorf, and Dr. Mario will come to stores.
Additionally, Amiibo for the upcoming DLC characters Mewtwo and Lucas will be coming later.