Not only does it look like Sonic may still have a future on consoles, Nintendo is releasing more Marth Amiibo next month!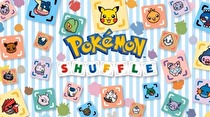 Rounding up some more news since yesterday, we've seen a milestone of success for Pokémon Shuffle as well as some good news regarding the scarcity of Marth Amiibo and the update to Azure Striker Gunvolt.
---
Pokémon Shuffle Surpasses 1 Million Downloads
Nintendo's free-to-play 3DS eShop title Pokémon Shuffle has been downloaded over one million times since its release less than two weeks ago. As a reward to loyal fans, Nintendo sent out a Complexity -1 item to all users as a gift. One round of the puzzle game can be simplified with this item, taking a higher difficulty and making it much easier; you don't even have to shell out a single coin to get it, let alone all 9000 of the usual cost.
Our Take: "I'm not surprised that Pokémon Shuffle passed a million downloads because I'm finding it to be really fun. I've put more than six hours into it without spending a dime and I've cleared more than 100 stages." - Neal Ronaghan
"Not surprised by this in the least. If you look past the microtransactions, there's a pretty fun game here without having to spend a dime." - Bryan Rose
---
More Marth Amiibo Coming in Late April
Having a hard time finding that elusive Marth Amiibo figure? No worries, Nintendo has announced via Twitter that North America will receive a new supply of Marth figures at the end of April. As all Fire Emblem characters will be compatible with the upcoming 3DS game, Code Name: S.T.E.A.M., Marth will arrive not long after its release.
Our Take: "Wow. That new supply of Marth is coming more than a month after Code Name: Steam? That's disappointing. At least Nintendo is stepping out in front in saying when new stock is arriving, though. That's a start." - Neal Ronaghan
"While it's clear that this is a move motivated by Code Name: Steam, I hope that more Amiibo receive additional shipments in the future. I, for one, would love to secure an Ike figure..." - Bryan Rose
"While I would have liked to see Nintendo be a bit more proactive about the scarcity of Marth Amiibo, better late than never I guess. It does mean, however, if this type of problem continues in the future, Nintendo is thinking of its fans and is prepared to offset these issues with supply and demand." - Becky Hollada
---
Sonic Team Says There's Still a Future for Sonic on Consoles
Although Sonic has yet to see a strong success on home consoles lately, the head of Sonic Team Takashi Iizuka remains optimistic. SEGA has announced their intention to shift focus to mobile developments, but Iizuka isn't planning on making our favorite hedgehog mobilized, "Currently we don't ... Personally, I don't plan to stop Sonic for home-video game consoles. Don't worry about them! And enjoy!"
Our Take: "I think there's a future for Sonic too. But whatever it is, it's not something grandiose like Sonic Boom. Maybe something similar to Sonic 4 would be on par?" - Bryan Rose
"SEGA needs to stop overthinking Sonic. It's a fun formula and I know they don't want to let it get stale, but let's face it, releasing a game that calls back to Sonic's glory days would be a breath of fresh air at this point." - Kimberly Keller
---
Trine 3 Announced, Possibly Coming to Consoles
Trine 3: Artifacts of Power may get a release on home consoles this year. Frozenbyte announced the third installment this week and promised a 2015 release on the PC with other consoles TBA. The game will feature co-op gameplay and rich visuals. Previous games in the series released to great acclaim on Windows PC before being ported to other consoles.
For a first look at the game, check out this video.
Our Take: "A new entry in the Trine series is finally coming... to PC. Fortunately, it looks like Frozenbyte Games plans to bring it to other platforms at some point in the future. Hopefully that includes Wii U." - Alex Osborn
---
New Scenario for Corpse Party on 3DS
5pb.'s survival-horror game Corpse Party is coming to the 3DS this summer and will be featuring a brand new scenario. While title is based on the original PSP game, this addition is entirely new and unfamiliar. Details on any other changes or additions are still in the air, but reports indicate that developers Team GrisGris will be in charge of the story.
Our Take: "A Japanese schoolgirl style survival horror I can play with all the lights on in the middle of the afternoon! On a serious note, it's great to see some features being added to the 3DS version instead of this game becoming just another PSP port." - Becky Hollada
---
More on Azure Striker Gunvolt Update
Releasing on Thursday, March 5, Azure Striker Gunvolt's latest update to version 1.2 will include new features such as a Boss Rush Mission, Lumen's new song "Sakura Efflorescence", support for the New 3DS, and various bug fixes. A demo for the game will also be released soon and will allow save data to be transferred to the full version of the game seamlessly.
A new theme, "The Sumeragi 7″, will also be available for $1.49 and features the seven Sumeragi boss characters on the upper screen and nighttime city scenery on the lower screen. The theme will play "Sumeragi Skirmish" in the background.
Our Take:"I don't much about this game, but hey, that's what demoes are for, right?" - Kimberly Keller