Loki watch out. There's a new witch in town.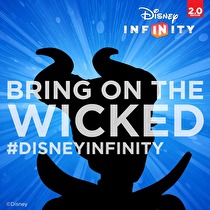 Today, Disney's official Facebook page released an image teasing a silhouette of a Maleficent figurine with the tagline "something wicked is coming to Disney Infinity."
This new figurine has no release date as of yet, but will be part of the upcoming Disney Infinity 2.0, scheduled to release this fall. The character may be a launch day release to keep the character connected with Disney's Maleficent, which premieres in North America May 30.
Earlier in April at a live event in Los Angeles, Disney announced Marvel Super Heroes, coming this fall as part of the new Disney Infinity 2.0. Many of Marvel's most beloved characters, such as Iron Man, Thor, Captain America and Black Widow, will be introduced to the world, as well as their villain counterparts. This Maleficent teaser marks the beginning of the additional Disney-themed figures and sets that Disney also mentioned during the event.