All your favorite Marvel goodies are coming along for the ride.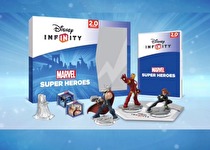 With the initial announcement of Disney Infinity: Marvel Super Heroes, fans gained a glimpse into some of the new figures on their way this fall. A more detailed list of Power Discs has since been made available, and fans will be excited to see just what else is in store.
Skins and Textures:
World War Hulk - Customize your landscape to make it look as if Hulk went on a smashing rampage
World War Hulk Sky - Turn your blue skies green with this Hulk themed power disc
Stark Tech - Deck out your Toy Box compliments of Tony Stark. Unlock the Stark Industries Tech theme with upgraded Hologram Readout Tech ability
View from the Suit - Ever wonder what it's like to see the world from inside Iron Man's helmet? Check out the Hologram Readout Tech upgrade and unlock Stark Industries "View from the Suit"
Vehicles
Hydra Motorcycle - Take Hydra's Motorcycle for a spin. Sidecar included
Lola - Need a ride? Unlock this Agents of S.H.I.E.L.D. hover car
S.H.I.E.L.D. Containment Truck - Contain enemies and protect civilians with this S.H.I.E.L.D. truck
Falcon's Wings - You'll be soaring when you put on Falcon's Wings
The Avenjet - Hop on board the Avenjet for a speed boost in your Toy Box
Team-Ups and Costumes:
S.H.I.E.L.D. Helicarrier Strike - Send down a missile strike from above. Your enemies will need to take cover
Marvel Team Up: Winter Solder - Team up with the Winter Soldier and catch your enemies in the crossfire
Marvel Team Up: Iron Patriot - Hit them hard, hit them fast, hit them everywhere! Iron Patriot reporting for duty
Stark Arc Reactor - Try the Mark 42 on for size! Unlock Iron Man's black and white special edition Guardians of the Galaxy armor with added boom!
Sentinel of Liberty - Expand your Super Hero wardrobe with Captain America's World War II costume and original shield!
Gamma Rays - Time to get old school and unlock the Original Grey Hulk costume with added smash!
Power Disc packs include two random Power Discs from a single release series, such as series 1 or series 2, and will continue to be available for $4.99 each.
The starter pack releasing for Marvel Super Heroes will be priced at $74.99 and will include:
1 Disney Infinity: Marvel Super Heroes (2.0 Edition) Video Game
3 Marvel Super Heroes Figures: Iron Man, Thor and Black Widow
1 Disney Infinity Base (2.0 Edition)
2 Toy Box Game Discs
1 Marvel's The Avengers Play Set piece
1 Web Code Card
Play Sets for this series will cost $34.99 and additional figurines will be $13.99.