Captain America and the gang are coming in Disney Infinity: Marvel Super Heroes this fall.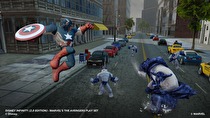 Marvel comic book characters are coming to the world of Disney Infinity this fall courtesy of Disney Infinity: Marvel Super Heroes on Wii U. It will be a part of the Disney Infinity 2.0 platform, and new Disney-themed characters will also come out later.
The Starter Pack for Marvel Super Heroes includes Thor, Black Widow, and Iron Man figures, as well as the Avengers Play Set piece (modeled after S.H.I.E.L.D.'s HQ the Triskelion) and two Toy Box game power discs. These new types of power discs will include new game types, including tower defense and dungeon crawling games that are playable in the Toy Box and feature three to four hours of content.
Other new power discs include helper characters such as Iron Patriot and costume changes, so you change the color of your Hulk. Also, all figures will include skill trees with attributes you can upgrade and customize.
Captain America, Hawkeye, and Hulk figures were also shown off in physical form, and more than a dozen other Marvel figures will be unveiled later. Other characters were shown off in a trailer, including the Guardians of the Galaxy (including Groot and Rocket Racoon), Spider-Man, and enemies such as Loki and MODOK.
All of the characters, power discs, toy boxes, and the physical base from Disney Infinity and Marvel Super Heroes work with both the original Disney Infinity and the new Marvel-themed one. The new Disney Infinity will also feature a number of additions and tweaks to the Toy Box mode to improve usability and creativity, making it more structured while still keeping the freeform nature of the original.
Avalanche Software is once again developing the game and noted Marvel writer Brian Michael Bendis worked on the script and characters for Marvel Super Heroes.
The Disney Infinity series, which launched last August, has sold more than 3 million starter packs. Unlike the original, the new version of Disney Infinity will not be coming to Wii or 3DS. Wii U is the only Nintendo system that Disney Infinity 2.0 will come out on.