Your save data is safe.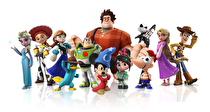 All save data, figures, and accessories from the original Disney Infinity will be compatible with Disney Infinity: Marvel Super Heroes.
Character data, Toy Boxes, and save files can be transferred to the new version of the game, an integral feature as the new game will only be released on next gen consoles like the Wii U, unlike the original version. Previously released figures, Power Discs, and the base will also be fully functional in 2.0. All characters' level caps will also be increased from 15 to 20 in the new version and will be upgraded to include the new skill tree leveling customization feature, allowing a variety of attributes to be honed.
There are currently over 60 Power Discs and about 30 figures available for Disney Infinity with at least 18 figures and 80 new Power Discs releasing in the future for the Marvel Super Heroes version.