New Door tool opens up a world of possibilities.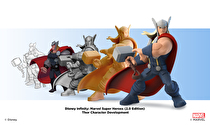 Disney Infinity: Marvel Super Heroes will introduce a Door tool for the Toy Box that will allow players to enter the structures they've built.
The new tool can be used on top of an existing structure and, once inside, players can customize the interior with new items such as Marvel-themed furniture. This new feature serves as a home base in the game, where players can display achievements they've earned and show off their unique style.
John Blackburn, vice president and general manager of Disney Infinity, and John Vignocchi, executive producer, discussed the possibilities of building interiors, mentioning custom caves and dungeons, but did not elaborate.
The Door tool and interior build options are part of the enhanced Toy Box features for the game, which includes the new Creator tool and other additions to make building worlds faster and easier. Players on the original Disney Infinity spent over 60% of game time in the Toy Box, prompting developers to focus on pushing the mode further.