Donkey Kong! Again!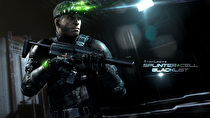 This might be a light week, but I'm still playing catch up on the recent two-hit combo of Pikmin 3 and Mario & Luigi: Dream team, so I certainly don't mind.
To make up for the lack of new titles we're being treated to some decent discounts on some of the better Wii U eShop titles, so be sure to scoop those up if you're trying to fill your time between now and the explosions of games coming to Nintendo platforms in October.
3DS Retail Games
Barbie: Glam and Groom Pups - $29.99
Wii U Retail Games
Tom Clancy's Splinter Cell Blacklist - $59.99
Wii U eShop Sales
BIT.TRIP Presents…Runner 2: Future Legend of Rhythm Alien - $11.25 until 9 a.m. PT on Aug. 29
Trine 2 - $7.99 until 9 a.m. PT on Sept. 5.
3DS eShop Games
Saddle up, chumps! It's time to tear into some riding adventures with Karla, so she can achieve her dream of being a big time horse riding star. With customizable horses and three different tournaments, you'll be riding until the cows come home.
Heavy Fire: Black Arms 3D - $4.99
Battle it out in the South American jungle! For a measly five bucks you can spend your afternoon shooting bad guys, destroying aircraft and rising through the ranks. Come on, who hasn't fantasized about going buck wild with a machine gun in a South American jungle filled with marines?
10-in-1: Arcade Collection - $2.99
Ten games for three bucks? Yes, please! Besides, game collections are always a great idea, right? Let's see what we have here. I see Tetris a clone, a Space Invaders clone, and an Asteroids clone, so all your bases should be covered. If you're looking for bang for your buck then, according to math, you should pick this game up.
3DS Virtual Console
If you missed the chance to get this for .30 cents on the Wii U Virtual Console, then fear not! Nintendo is graciously allowing you to purchase it for five dollars on your 3DS! Go back to DK's roots and experience a burning hatred for all things Italian all over again.
Wii U Virtual Console
Anyone who grew up after they heyday of the American arcade has probably seen a Pac-Man/Galaga split machine. In the interest of saving space in a declining arcade market those bad boys were crammed into every movie theater and pizza place they could find. Why? Because Galaga is awesome, that's why. Don't forget the Dual Fighter trick!