No guts. No glory. No arms.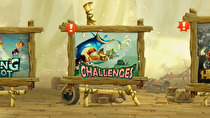 The Wii U exclusive Challenge Mode demo for Rayman Legends will arrive in late April, Ubisoft has announced.
The publisher also confirmed that the challenge mode will come with four levels, one of which is called 'Murfy's Dungeon' and will be exclusive to the Wii U version of the game.
Announced shortly after the game's delay to September, this mode will allow players to complete in challenges across four distinct stages. New challenges will be added daily and weekly, with each featuring its own online high score leaderboard.