Folks from Ubisoft Montpelier band together to fight the man.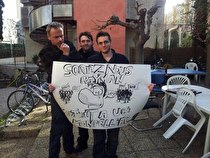 Members from Ubisoft's Montpelier studio have began to protest the company's decision to delay Rayman Legends. Members, including Rayman creator Michel Ancel, have taken to the streets with signs that call for Ubisoft to release Rayman Legends on its originally scheduled launch date.
The photos, courtesy of Eurogamer.net, show members of Ubisoft Montpelier carrying signs that read "Release Rayman. Support Ubisoft Montpelier." A drawing of Rayman is shown, crying and saying "Please."
Legends was recently delayed to September from its scheduled February 26 release date. With the delay came news that the game would also see release alongside a PS3 and Xbox 360 version. Ubisoft has officially commented that the reason behind the delay was to release the game on other platforms, noting that Rayman Legends is complete on Wii U.