The results are in. These are the most hyped titles coming to Nintendo platforms in 2016!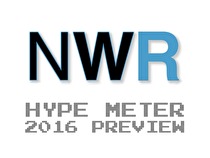 Last month we asked our readers and staff to send us a list of their most wanted titles coming to Nintendo platforms. The idea was to come up with a list of the most wanted games, similar to what used to happen on a monthly basis in Nintendo Power magazine.
Well the results are in! We've crunched the numbers and can now share with our readers the top 25 most wanted titles coming to Nintendo platforms. Since it's the beginning of the year we are also using this feature as a preview for what we can expect throughout 2016.
So how were these results calculated? Each list we received ranged from five games to 10, and on those lists each game was given points for their ranking. For example, let's say that Zelda Wii U is at the top of a list of 10 games. That means Zelda Wii U would get 10 points. The second-highest game would get nine points, and the third-highest would get eight, and so on and so forth. If the list was just five games, then Zelda Wii U would get five points.
Using those numbers, we divided them by the most amount of points possible. So let's say Zelda Wii U was at the top of one person's 10-game list and was fourth on another list. That means, if we were justing those two lists, Zelda Wii U would have an NWR Hype Number of 85% (or (10+7)/20, which would be (one list's rank+another list's rank/highest possible rank).
It's a wacky way to do this, but it's also just for fun. We hope you enjoy the feature, and if something you wanted didn't make the list let us know about it in the Talkback section below!