Japanese chess, anyone?

Shogi, or Japanese chess as it is sometimes referred to, has been played in Japan for hundreds of years. The game is played on a board consisting of a 9x9 grid with each player having 20 different pieces that vary in size. What you see below are just a sample of what Nintendo has to offer in their Shogi product line. Including these, there are a total of seventeen variations of game boards and nine different types of pieces (all of them can be found here). Again, like several of the other games that the company has to offer, price vary depending on the materials used. In this case, the kinds of wood can really alter the price. Materials that come from Japan, say for example wood used for the game boards, can be significantly more expensive than wood that comes from other countries. Nintendo offers several different boards and pieces. If you were to buy all the required pieces (board, pieces, stand), you could easily drop nearly $1,000 USD or more. At any rate, here is the featured lineup that Nintendo currently offers for Shogi.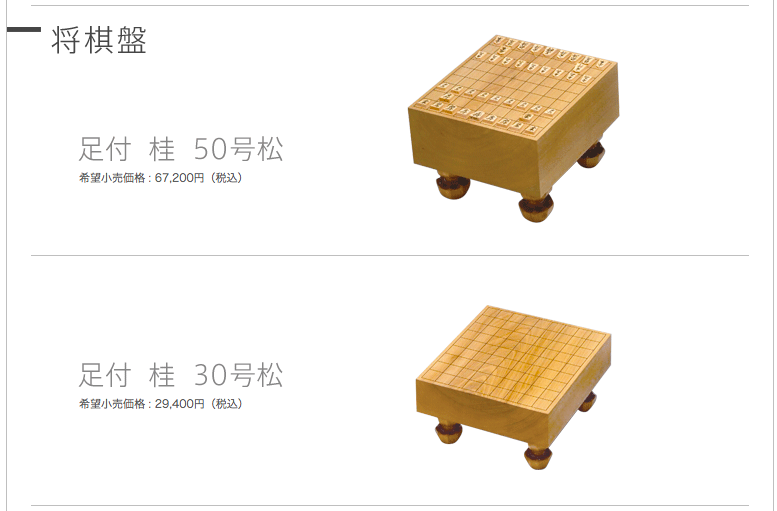 The first two boards are called the Ashitsuki Katsura (Katsura wood with legs) 50-go matsu and 30-go matsu. The number refers to the thickness of the board with the 50 being somewhere around 14.5 - 15.5 cm thick and the 30 being around 8.5 cm thick. The 50 sells for 67,200 yen (about $672 USD) while the 30 goes for 29,400 yen (about $294 USD).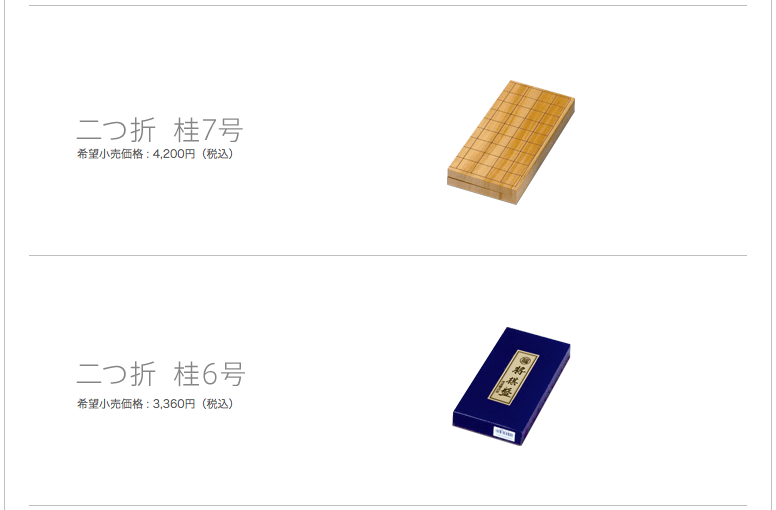 These sets are examples of folding versions of Shogi game boards. The first one, the Futatsuori Katsura (Katsura wood folding) 7-go is about 1.9 cm thick and cost 4,200 yen (about $42 USD) while the Futatsuori Katsura (Katsura wood folding) 6-go is around 1.6 cm thick and cost 3,360 yen (about $33.60 USD).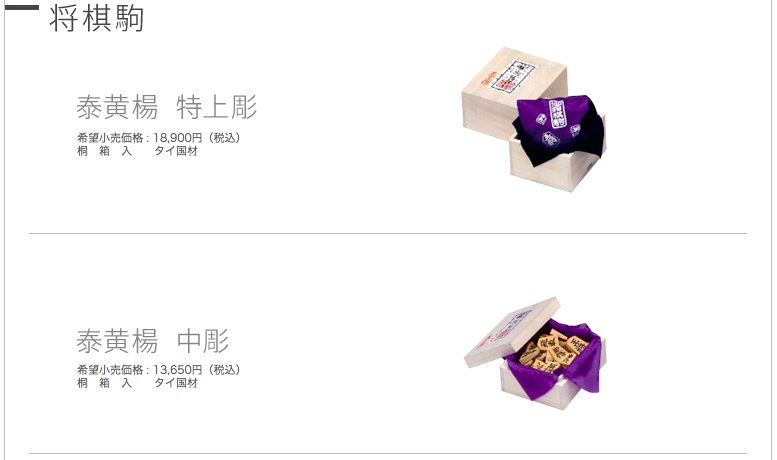 Here we have the koma, or pieces that are used in Shogi. As I mentioned above, there are a total of 40 koma that are needed for each game. The first one is the Taitsuge Tokujyō (Finest Thai box wood) set which retails for 18,900 yen (about $189 USD) and the second one is the Taitsuge Chugoritsu (Medium grade Thai box wood) set that goes for 13,650 yen (about $136.50 USD). As the names suggest, these featured products are produced from wood from Thailand.

Lastly, Nintendo also sells stands (Komadai) for player to place their koma. Similar to the tables, the numbers on each of these refer to the size, in this case the height, of the stands. They start at 5,880 yen (about $58.88 USD) for the 20 and go up to 6,930 yen (about $69.30 USD) for the 60.
Note: The exchange rate at the time of writing was roughly $1 USD = 100 yen.