That Mario sure has one fine tail.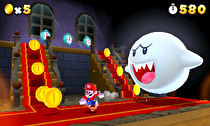 From announcement to release, the tale of Super Mario 3D Land unfolded like a classic underdog story.
It seems silly to ever consider a mainline entry of the Super Mario series as an underdog, but coming out of E3 2011, things didn't look so hot. While few expected it to turn out poorly, the skepticism came from the quality of Mario's two previous outings. How could a new Mario game eschew the scale of the Galaxy games? Is it banking too much on its stereoscopic 3D? Throw in the fact that Super Mario 3D Land was aiming to be the 3DS's savior, and anything but perfection had only left people worrying.
Happily, things turned out just fine. As fate would have it, the game was so good that it sits here at our number one spot. Not only did the game turn around the fortunes of the 3DS, it continues to be its defining title.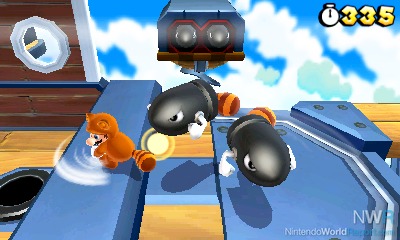 What makes 3D Land so special is its understanding of the system it's on. There's a misunderstanding that a portable is mutually exclusive to commutes and bank lines, that a 3DS needs a library of quick and dirty experiences. It's silly to think that way, and the folks at EAD Tokyo knew that. In addressing that misconception, they developed a game that rewards each and every moment put into it. Players can breeze through any given level within ten minutes, or they can explore for treasures and admire the craftsmanship.
It all boils down to the studio's knack for scale. Not only could you approach Super Mario 3D Land in quick bursts or longer sessions, but its stages fit perfectly into the confines of the 3DS as well. You never felt like there was a need to scout ahead or get a better grasp of your surroundings, all that was necessary fit on that little screen. Playing into this was the verticality of the levels. Again EAD Tokyo displayed their comforts with the system, crafting levels that had Mario jumping from up on high, Tanooki suit in tow. These moments took great advantage of the stereoscopic 3D, but the thrills were still there for those less willing to experiment with the 3DS's namesake feature.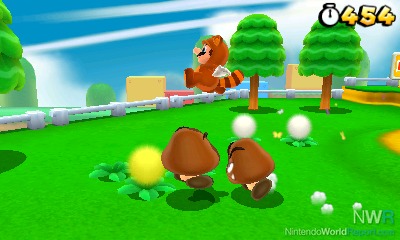 It almost slips my mind to tell you of just how fun a game 3D Land is. For as much as I rattle on about what great bedfellows EAD Tokyo and the 3DS are, the title wound up on our list because it's an absolute joy to experience. But we've come to expect as much, haven't we? Thankfully, the fun on display here deserves mention for its interesting blend of old and new. At times, Mario has the expansive freedoms we've experienced in the Galaxy games. But just as likely are the moments where are movements are more restricted, seemingly ripped from a timeline where Super Mario 64 kept its 2D roots intact and offered just a smidgen of extra play space. It's a terrific blend, and further proves that this isn't some shrunk down console title. It is its own beast.
The fun isn't short lived either. What at first appears to be a charming and breezy traipse through the Mushroom Kingdom suddenly turns into a interesting challenge for fans of the plumber. The first eight worlds are merely a test, a practise lap that prepares you for yet another adventure. It came as a surprise, but one that was definitely welcomed. Nothing wrong with even more fun, wouldn't you say?
Super Mario 3D Land was built around the strengths and unique qualities of the 3DS. It was custom made for the handheld, and in turn, felt custom made for you too.