The return of the Nintendo 64DD!...okay, probably not...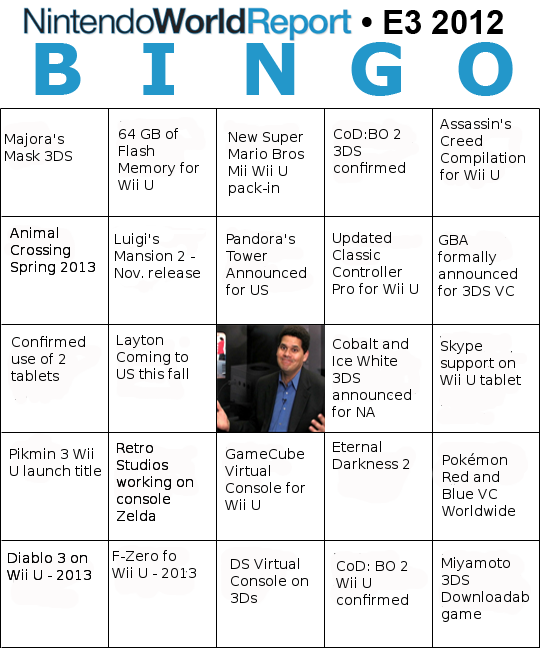 Like Alex's page, mine is pretty easy to understand considering it is completely text based. I still would like to elaborate on a few of the points.
Assassin's Creed: As we all know, Assassin's Creed III is coming to the Wii U. To get players familiar with the series, why not release the older games on the Wii U via digital download? I'm not saying they have to be fully compatible with the tablet controller or anything, but perhaps they can be ports that are playable with the Classic Controller.
Luigi's Mansion 2: New Super Mario Bros. 2 may be the biggest Mario title for the Nintendo 3DS this year, but Luigi's Mansion is going to be another addition for the core Nintendo fans this holiday season. Expect a worldwide release for the game sometime this November.
Diablo 3 on Wii U: In an attempt to appeal to a more hardcore crowd, Nintendo could be working with various third parties to bring software to the Wii U that could lure in some gamers who have sat Nintendo aside for quite some time. Diablo 3 is currently a maybe for a console release, but the advantage of the Wii U tablet controller could make Nintendo's next console an ideal place for the popular Blizzard title to land.
Updated Classic Controller Pro: While the current Classic Controller Pro suits most games it supports, it is a bit lacking in one area: clicky analog sticks. The PS3 and Xbox 360 controllers both have additional buttons thanks to this feature. A slightly redesigned version of the Classic Controller makes sense for Nintendo to appeal to third parties, especially the ones who are doing quick and dirty ports across all platforms.
Animal Crossing: The insanely popular "communication" game is coming to store shelves in Japan this fall, but it's going to be a little bit of a wait for gamers in English speaking territories. Expect Reggie to talk about the game briefly only to break your heart with mention of a Spring 2013 release.