Gamer cards, NFC toys, downloadable GameCube games and a new Classic Controller!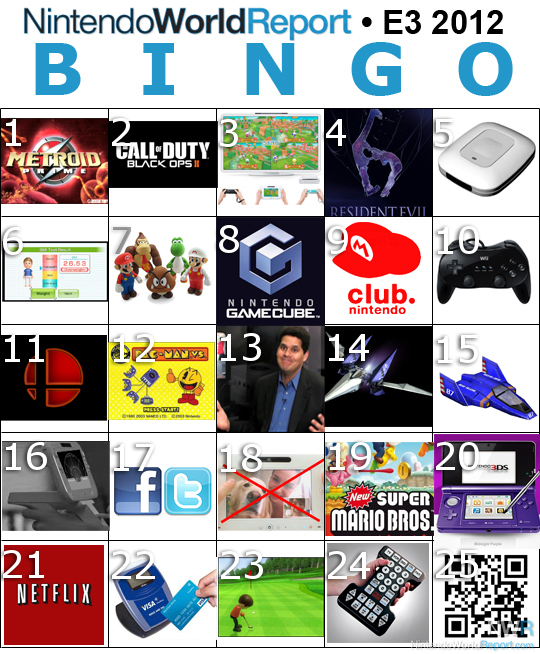 1. Metroid Prime 4 teaser trailer, release date is launch window.
2. Call of Duty Black Ops 2 playable, unique Wii U features, release date is launch window.
3. Chase Mii is preinstalled app.
4. Resident Evil mentioned in passing as coming Q1 next year.
5. Gamer Card included with every Wii U, syncs by NFC.
6. Wii Fitness app available day 1 from the eShop, works with Wii Balance Board.
7. Nintendo packing in NFC toys with first party games, unlock extra Club Nintendo points.
8. GameCube and Wii games available day 1 from the eShop.
9. Club Nintendo now integrated at system level, game registration mandatory.
10. New Classic Controller U shown, includes rumble and rechargeable battery.
11. Smash Bros 4 logo and name shown, that's all.
12. Pacman Versus available day 1 from the eShop.
13. Free space.
14 Starfox Wii U developed by Retro, trailer shown, launch window title.
15. F-Zero Wii U developed by NST, trailer shown, launch window title.
16. Aliens Colonial Marines shown played with Wii U zapper, first game to support it.
17. Facebook and Twitter system level integration with Wii U OS.
18. Video chat is separate app and can't be used in-game, for no reason whatsoever.
19. New Super Mario Bros Mii is launch title, but not a pack in. Features mini games that use tablet controller, interacts with NSMB 2.
20. 3DS can be synced to user accounts on Wii U, eShops are synced, Club Nintendo points updated automatically.
21. Netflix support from day 1.
22. NFC can be used for smaller eShop payments. (i.e less than $20)
23. Wii Sports apps sold individually on eShop.
24. Universal remote support out the box.
25. One-use barcodes can be scanned using controller camera, adds games to Club Nintendo quickly and easily.