We decided to make a game out of the madness of E3.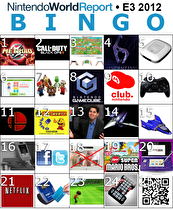 Taking cue from places like NeoGAF, we decided to present our E3 2012 predictions in Bingo card form. Each contributing staffer was tasked with filling out a card with what they think will happen at E3, ranging from the normal to the outlandish.
Play along if you like and use the template we made, which is below.