Zach believes that AlphaDream's Mario & Luigi series bests Paper Mario in every way.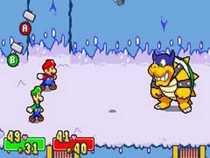 Some people, like Josh Max and Neal Ronaghan back there, like the Paper Mario series. I don't, though; I see the Paper Mario games as "Fischer Price's My First RPG." They are idiot-proof games, and while the graphical style is interesting, it doesn't hold your attention for the 15 or so hours it takes to beat each game. No, dear readers, the superior Mario RPG series began in 2003 on the Game Boy Advance. The Mario & Luigi games, filled with humor, engaging combat, and unique and off-the-wall plots, are the cream of the Mario RPG crop.
The series began with an out-of-left-field game developed by AlphaDream called Mario & Luigi: Superstar Saga. Originally revealed at E3 2003, the title hit stores that November and instantly became a critical darling. The game was heavily leveraged on the concept of controlling Mario and Luigi at the same time. Although daunting in theory, the game wisely avoided confusion by making the two follow each other all the time. Brilliantly, the A, B, L, and R buttons were used to control their separate actions. During normal gameplay, this control concoction made for some intriguing puzzles and environmental challenges to traverse. The brothers also had wonderful ways of contorting; in order to achieve maximum jump height, Luigi jumps on Mario and uses him as a spring. In another instance, Mario uses his hammer to pound poor Luigi into the ground—irritating, yes, but Luigi can suddenly move underneath environmental obstacles.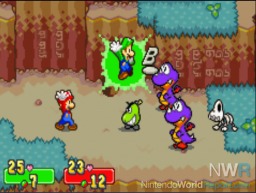 Remember these guys from Super Mario World? Good friggin' times.


Aside from these often-hilarious maneuvers, Superstar Saga packed a whole lot of RPG combat goodness into a tiny package. The brothers used a combination of jumps and hammers to deal with baddies, and made use of the same instruments for blocking attacks. Pressing the A or B buttons at the right time might make one of the brothers leap over a charging foe, or if you time it right, land on his head. Similarly, you can block or knock back projectiles with your hammers. Special attacks are complex and difficult to learn, involving pressing the correct combination of A and B with the right timing to deliver a double-dose of pain to attackers. These "Bros. Attacks" could even be leveled up, and new branching button paths would be unlocked. The Bros. Attacks, once mastered, made most boss encounters cakewalks—such is the double-sided nature of the ability. The animations that go along with these attacks, by the way, are priceless.
The localization for Superstar Saga—and indeed the entire Mario & Luigi trilogy—is some of the best ever produced by Nintendo of America. The humor is rampant and perpetual, with constant callbacks to old Mario games that will make any longtime fan smile ear to ear. Luigi gets a good helping of humble pie in particular; nobody can remember his name, so he usually ends up getting called "Green Guy" or "Mario's brother." Bowser, ever the loveable galumph, provides a triumphant anti-hero, revealing himself as big, powerful, and incredibly self-centered. It is the villainous Cackletta's peon, Fawful, however, that is the breakout star. With furious, bean-shaped bravado, Fawful uses a combination of broken English and cramp-inducing food metaphors to leave the audience in stitches. He should really get his own game…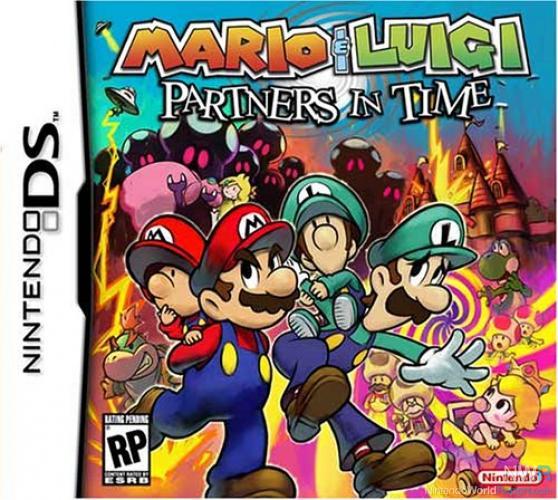 This game is filled with baby version of the usual cast. For people who don't like babies, this may be a sour proposition.


The next game in the series, an early DS title called Partners in Time, doesn't feel nearly as tight as its predecessor. It was released almost exactly two years after Superstar Saga. The writing is still there, though the plot is wholly separate. The brothers team up with baby versions of themselves, and suddenly the player must juggle four command buttons (A, B, X, Y) during combat. Perhaps because of this added complexity, AlphaDream removed the memorable sequence-based Bros. Attacks and replaced them with vanilla Bros. Items, whereupon you are asked only to press the right button as the item gets faster and faster (like a Koopa Shell). The DS' second screen is used to make a bigger play area—many enemies, during combat, will move to the top screen and attack from there.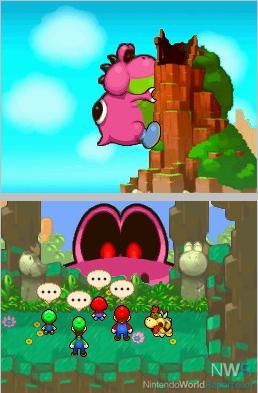 Barney grew up. Filled out.


Some environmental puzzles also use both screens—the Babies will be on one screen and the Bros. on the other, and their separate actions affect each other in different ways. While this does lead to some interesting puzzles, it all feels a little forced. While not bad by any means, Partners in Time is a less memorable, less refined game than Superstar Saga that feels very gimmicky at times, probably due to being an early title for the Nintendo DS. Luckily, AlphaDream would return to the series in 2009 with a far better entry.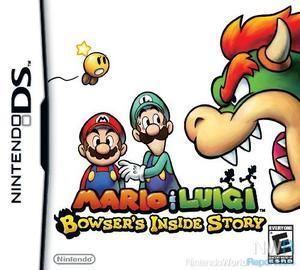 That little yellow Bob-Omb dude is the chattiest chatterer in the history of chatty chatters. Chat, chat, chat, all day long.


Bowser's Inside Story is that game, and it cures almost all the ills brought by Partners in Time. The gimmick this time—if you can call it that—is that the brothers have been inhaled by Bowser and must work their way out of his system. While the boys operate in side-scrolling fashion on the lower screen, Bowser is fully controllable on the upper screen, where his isometric exploration is similar to the usual Mario & Luigi M.O. With his big punches and fire breath, Bowser feels like a powerful beast as he should. Things get even better during boss sequences, where Bowser grows to the size of Godzilla and pummels a giant robot or his own castle!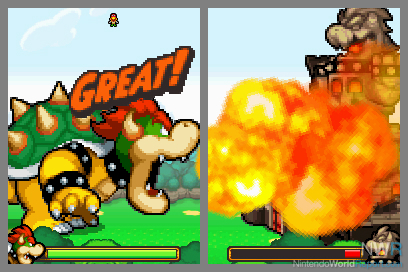 Unlike Tokyo, the Mushroom Kingdom never had to sink Coins into R&D for a Super X anti-Godzilla craft.


In certain areas, Mario & Luigi can affect the Koopa King's strength by playing a mini-game in his muscle tissue. It's all very charming. Best of all, however, series favorite Fawful returns in a big way—as the game's main antagonist! It's great to see Fawful unchained, and the game's final battle is nicely reminiscent of the ending confrontation in Superstar Saga. The series came full circle. It's tough to knock Bowser's Inside Story—the best I can do is that there's entirely too much dialogue sometimes, and the game's last few hours drag on a bit too long.
One of the things that keep the Mario & Luigi series so fresh is the art direction and animation. It is always impressive and endlessly charming. The character sprites are large and expressive, the environments are colorful and full of life, and even the enemy characters get in on the fun. In Superstar Saga, the Koopa Kids get to play, and it's great fun to see them reinvented in the aesthetic of the Mario & Luigi series. The charm even carries over to the sound design. Apart from excellent music, the brothers speak a hilarious jibber-jabber with Italian accents to other characters, and Bowser is all grunts and growls and roars.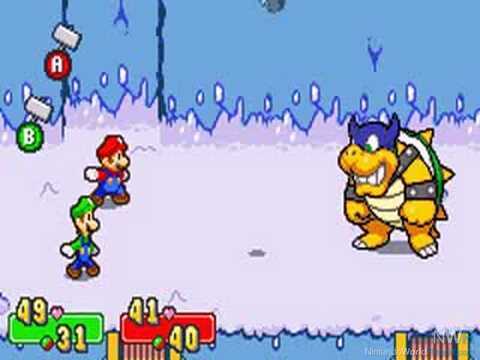 Notice that you never see Bowser and Rookie in the same room together. HMMM...


For me, the best game in the Mario & Luigi series is, bar none, Superstar Saga. It was new and wholly original, featuring some fantastic twists on the standard RPG formula. I even loved the Bros. Attacks since they required finesse to pull off, and you had to learn how to use each one effectively. Later games simplified things and tended to overstay their welcomes. Partners in Time and Bowser's Inside Story are both fantastic games, but Superstar Saga is very special, and there just aren't a lot of ways to improve it. If you haven't tried a Mario & Luigi game yet, you're really missing out. Track down a copy of Superstar Saga if you can, or at the very least, Bowser's Inside Story. You're in for a treat. Paper Mario can suck it.