What was a silly experiment in wacky RPG concepts evolved into one of the best Super Nintendo games of all time.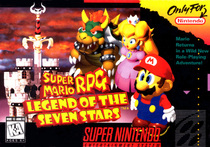 Back in the mid-'90s, when the world was still talking about the new CD-based consoles and the Nintendo 64, the Super Nintendo was still kicking butt, releasing amazing games such as Donkey Kong Country 2 and Kirby Super Star. There was one upcoming release in particular that had fans talking due to how weird it was. That game was Super Mario RPG: Legend of the Seven Stars.
Super Mario RPG did as its title says. It took the memorable Mario universe and transferred it to the realm of the RPG, a universe dominated by the likes of Dragon Quest and Final Fantasy. Speaking of which, it was going to be developed by Squaresoft (as they were known before their merger with Enix in 2003), one of the first times they worked on a different license than their own (a feat that wouldn't happen again until Kingdom Hearts in 2002). Mario had starred in games different from his genre, chiefly Super Mario Kart and Mario's Picross, but would this RPG work? How can players have fun selecting the "jump" command in a turn-based battle? The proof was in the pudding, and that pudding turned out to be delicious.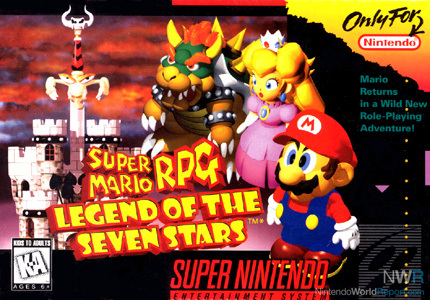 The game begins like any other Mario game. Princess Peach was kidnapped by Bowser, and as usual, it is up to Mario to go and save her. However, just as he rescues her, Bowser's castle begins to violently shake. Then, the sky is parted in half as a giant sword descends on the castle, sending Mario, Peach, and Bowser flying across the Mushroom Kingdom.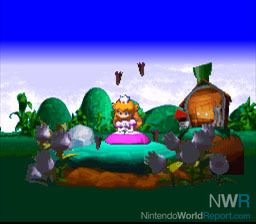 Soon, Mario discovers that the giant sword belongs to the Smithy Gang, a group of ruthless machines that want to take over the world. As he ventures further into the game, he meets two new characters that players have accepted as part of the Mario legacy. The first of these is Mallow, a cloud-shaped boy who was raised by a frog and believes that he is a frog himself. The other is Geno, a marionette doll come to life who is actually a star spirit.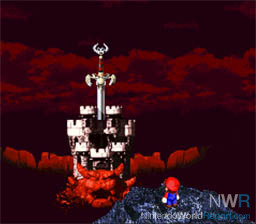 When the sword came crashing down on the castle, it destroyed the Star Road, spreading seven pieces across the kingdom. Mario's epic world-spanning quest was to go out and retrieve these stars pieces, in turn restoring order to the world once and for all.
The Mario franchise has never been known for having a deep storyline, and Super Mario RPG is no exception. However, a lot happens in this game, and it's one of the reasons it is such a memorable experience. You have small moments such as Peach being forced to marry by Booster (a Wario-esque character), Bowser constantly trying to rally what little he has left of his troops, and Mallow having an identity crisis when he learns the truth from his adopted grandfather. They are full of character, and that alone is why Super Mario RPG is such a wonder to behold.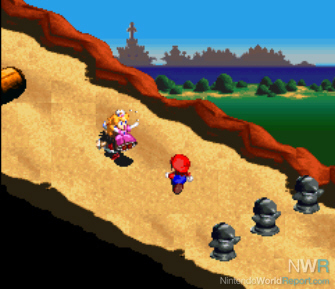 The gameplay, thankfully, is just as good as the story. Instead of creating a complex turn-based system like you'd see in Final Fantasy games, Square went with something more streamlined and easy to learn, so even Mario fans that hadn't played RPGs before could enjoy the experience.
One aspect of the game that would be present in all of Mario's RPGs is the timed button presses. When you select a command, such as "jump," you can perform a stronger attack if you press the button at the right time. You can even perform consecutive attacks if you keep pressing the buttons. This mechanic would then be implemented and used extensively in the rest of the Mario RPGs, so even though Square didn't work on the other entries, their efforts defined combat and gameplay for the rest of the series.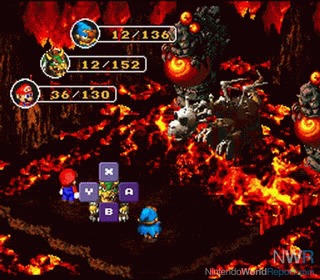 The presentation of Super Mario RPG would also be fondly remembered. The game sported the pre-rendered CG look that was made famous by Donkey Kong Country, giving visual depth to the characters and the world they lived in. The music pays tribute to the styling of series composer Koji Kondo while creating new tunes that were reminiscent of the Mario universe. The woman responsible for this was Yoko Shimomura, best known nowadays as the main composer behind Square's other crossover RPG series, Kingdom Hearts.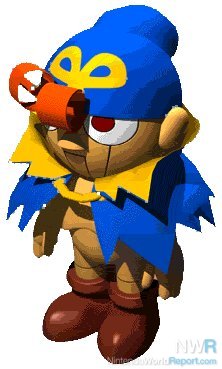 In conclusion, Super Mario RPG would be the last time Square would work on a Mario RPG. As you will see later on, the franchise would evolve, changing everything from development teams to visual styles, but Super Mario RPG created the stepping stones that the entire franchise would follow loyally. It may have been a weird marriage of ideals, but it was one that produced a lot of childhood memories for many gamers around the world.
If you have yet to play this game it is currently available on the Wii's Virtual Console for 800 Wii Points ($8).