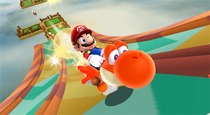 The offerings for Wii this year were very different than those for the DS, so the genres we award will not match exactly. Also, as with the DS, some genres may only have one winner.
BEST ACTION ADVENTURE TITLE
Winner: Metroid: Other M
The Metroid series took a sharp left turn from the rich, expansive three-dimensional worlds of the Metroid Prime series to a more classic, almost retro 2D/3D hybrid in Metroid: Other M, additionally throwing a heavy dose of story and voice acting into the mix. Though reactions to the new narrative style were lukewarm at best, the title succeeded at delivering non-stop action and classic upgrades that hearkened back to the Super Metroid days. Samus' adventure through the Bottle Ship delivered an exciting variety of enemies, cinematic combat moves, and stylish environments. The title is well worth a play through, even if it means sitting through some questionable storytelling (although several of the more action-oriented cinematics are impressive.)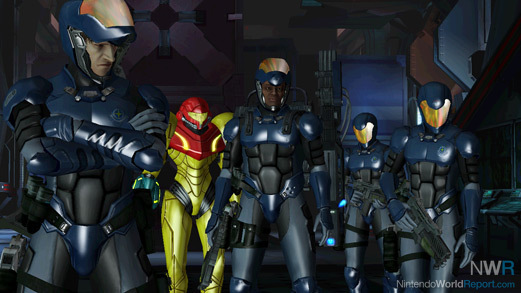 Samus is so flashy


Runner Up: No More Heroes 2: Desperate Struggle
While the first No More Heroes showed a lot of promise, it was slowed down by exhaustively repetitive mini-games, an empty overworld and the need to "purchase" boss battles. In its sequel, Desperate Struggle, Grasshopper Manufacture addressed these concerns with inventive and surprisingly addictive NES-style "jobs", axing the latter two issues altogether. Though the combat took a bit of a hit (one could argue that the first game put more emphasis on stance and timing during battles), Classic Controller support and the aforementioned improvements made Desperate Struggle a huge step up from its predecessor and cemented this series as one of the best new intellectual properties of this generation.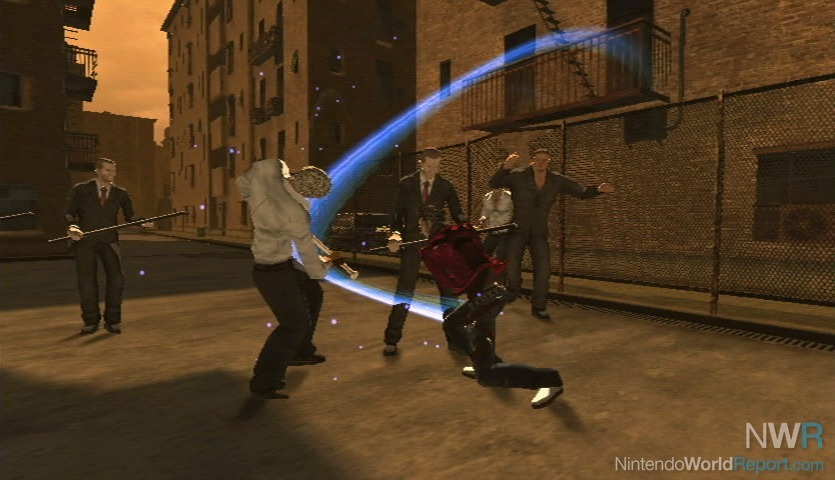 Brawl on the court



BEST MUSIC OR RHYTHM TITLE
Winner: Rock Band 3
Rock Band 3 brings along one of the best track lists on a disc, not forgetting the enormous selection of downloadable and exportable tracks. The multiplayer experience has more options than ever for instrument selection, and with all you have to learn in Pro mode, single-player is a brand new challenge. The interface has been completely overhauled since the previous game, and gameplay modes are plentiful, with everything from instrument trainers to online band multiplayer. The addition of keyboards and real guitar take the gameplay to a new level. This is as close as you can get to making real music in a game, and even outside of the game as you transfer your skills to real instruments.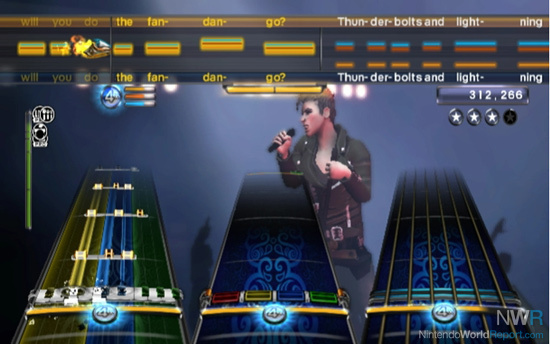 Wooah-oh-oh, woah-oh



BEST PLATFORMING TITLE
Winner: Super Mario Galaxy 2
For the sheer joy of running and jumping in crazy, beautiful worlds, nothing surpassed this sequel in 2010. Galaxy 2 brings back the unlimited buffet of its predecessor, allowing players to simply move on to other challenges when a particular level proves too difficult. With very little story and even less overhead connecting worlds to each other, Galaxy 2 is free to offer a startling variety of environments and challenges. This single title contains more gameplay mechanics than some development studios produce across their entire catalogue, yet the Super Mario series ultimately comes down to the same classic elements: running and jumping. However, Nintendo still holds the secret formula to make these actions seem not only fun but frequently magical.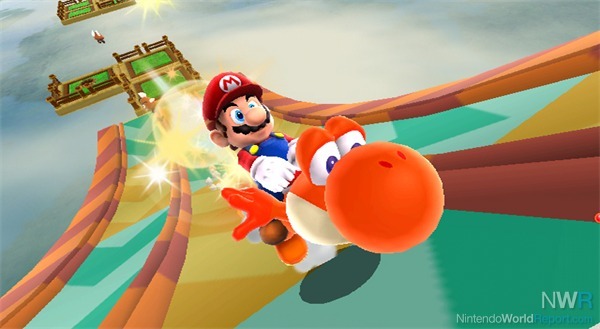 Orange Yoshi leads quickly to misfortune


Runner Up: Donkey Kong Country Returns
Despite facing strong competition from his fellow mascot friends Mario and Kirby, Donkey Kong impressed with Donkey Kong Country Returns. Visually pleasing and challenging, Nintendo's great ape couldn't have asked for a better comeback, as Retro Studios has crafted a game that pays homage to Rare's original while still carving out its own niche.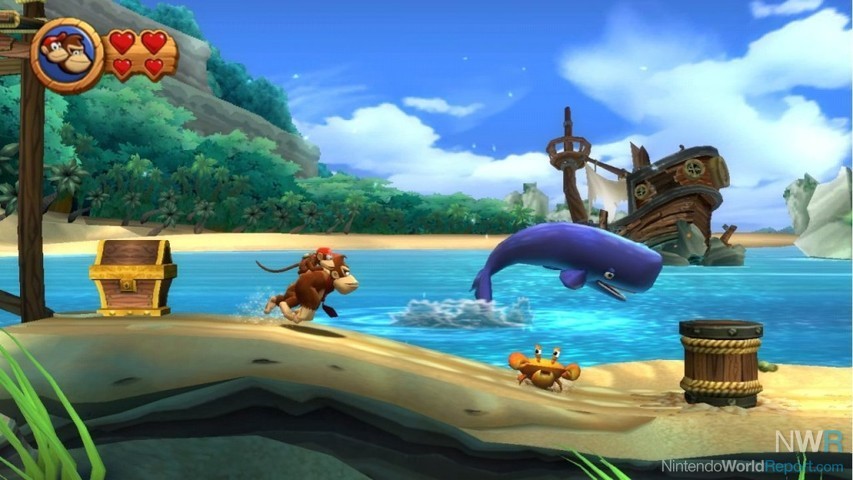 Either that whale is far away or it is tiny



BEST RPG TITLE
Winner: Monster Hunter Tri
Many wondered how Capcom's juggernaut Monster Hunter franchise would translate to a console, and they finally got their answer in 2010. Monster Hunter Tri pulled no punches in terms of utilizing the Wii hardware to the fullest, marrying a high-quality visual presentation with a robust multiplayer mode that allowed players to hunt with friends whether online or off. All of the trappings of recent Monster Hunter titles are included, allowing groups of up to four players to romp through wilderness areas filled with gigantic monsters, while fashioning outrageous gear and crafting power-ups to help themselves out. Downloadable quests extend the experience, and Classic Controller support ensures that fans of the PSP titles won't be put off by having to re-learn a motion-based control scheme. Most importantly, its utilization of Nintendo's Wii Speak peripheral for online voice chat rectifies a glaring omission from the original Japanese release. While not the most story-focused RPG on the market, Capcom went the extra mile to make Monster Hunter Tri the best of the year on Nintendo's console.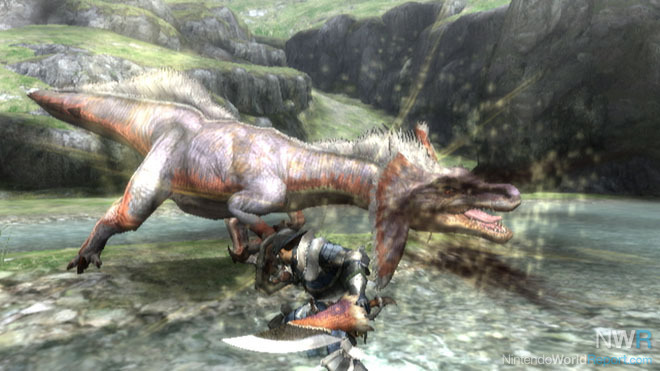 That's a small monster for this game


Runner Up: Sakura Wars: So Long, My Love
The long-running Japanese series finally found its way to western audiences, and its unconventional nature makes it clear why it took so long. Rather than killing various baddies for experience, you become more effective in its turn-based combat by becoming closer with your female squad members. While it seems silly that taking a young lady around a 1920s New York City should affect your ability to pilot a steam-punk mech against giant demons, the charm of the title and its characters make it work anyway.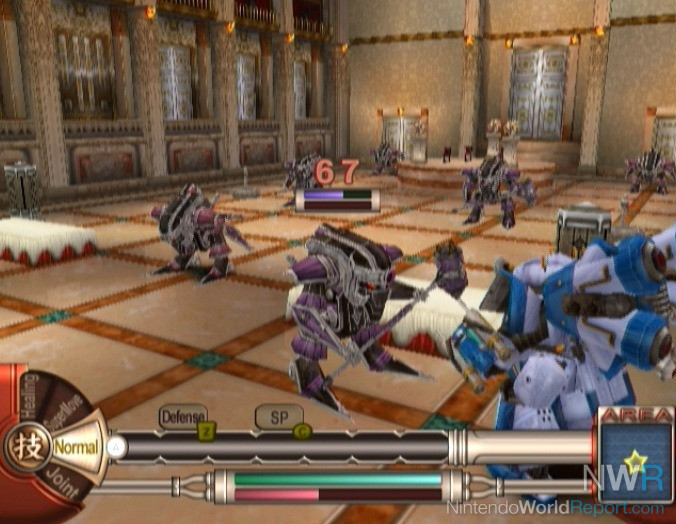 Intense mech battling