An all-star Famicast brings you the latest on the Famicom Mini and breaking into the Japanese movie industry!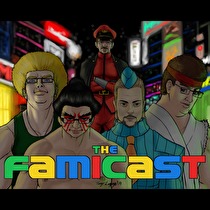 Subscribe via iTunes (Please rate and review, too!)
The Famicast is back to full strength this week to discuss all things Japan and Nintendo! As usual there's a lot of ground covered in New Business, with James covering platformers, Ty reaching terrifying heights with achievement hunting, Danny trying out the Monster Hunter Stories demo and Sairus risks serious hand injuries playing Theatrhythm Final Fantasy in arcades. And of course we also have you covered for a discussion on Power Rangers and other Super Sentai franchises in Japan!
The Famicom Mini has also started rolling out around the world, so discussion turns to Nintendo emulation, the eShop and how this device stacks up. There's also a sampling of Pokémon news hot off the presses!
The show wraps up with a rapid fire Fake or Real, plus a special segment as Ty talks about his recent flirtations with stardom as an extra in an upcoming movie. Could this be his big break? Tune in to find out!
Also, it's that time of year again. Yes! You guessed it! The NWR Child's Play Podcast Telethon! Your favorite Famicrew members will be there with some special guests! For more information on what time you need to tune in and all of that, be sure to visit the telethon article page here. Of course, if you guys have any comments, questions or complaints, be sure to sound off in the talkback below, email us at famicast@nintendoworldreport.com, or hit us up on Twitter @thefamicast!
This podcast was edited by Danny Bivens.
Music for this episode of The Famicast is used with permission from 8 Bit Weapon. You can purchase their music and shirts from their website 8bitweapon.com
Additional music for this episode of The Famicast is copyrighted to Nintendo, and is included under fair use protection.
The artwork for the show was designed by Tony Losoya, follow him on Twitter @Tony_Losoya