Surprisingly not announced for the Famicom's anniversary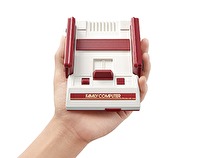 Japan will not be left out of the classic small hardware party this fall, as a Nintendo Classic Mini Famicom has been announced.
Similar to the Classic Mini NES announced this summer, the Famicom unit will release in Japan on November 10 for 5980 yen. The base unit will come with two controllers that dock into the system and much like the Famicom, are hard-wired. An AC adapter will not be included in the mini Famicom box.
The game lineup will be similar, but there have been some Japan-specific changes.
Nintendo published: Balloon Fight, Donkey Kong, Dr. Mario, Excitebike, Ice Climber, Kirby's Adventure, Mario Bros, Metroid, Super Mario Bros 1, 2 and 3, The Legend of Zelda, Zelda II: The Adventure of Link
3rd party: Castlevania, Double Dragon II: The Revenge, Galaga, Ghosts and Goblins, Gradius, Mega Man 2, Ninja Gaiden, Pac-Man, Super C
Classic Mini Famicom exclusive: Yie Ar Kung Fu, Atlantis no Nazo, Solomon's Key, Tsuppari Sumo, River City Ransom, Final Fantasy III, Mario Golf Club, Downtown Street Challenge
The Nintendo introduction video below also confirms a 4:3 and "pixel perfect" mode for game display.
Controller comparison image courtesy Chris Kohler (@kobunheat)