Join Danny, JC, Ty, Sai and a former Famicast member for this very special TGS/Mario version of the Famicast!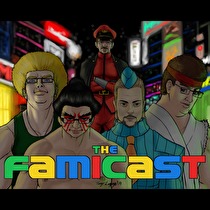 Subscribe via iTunes (Please rate and review, too!)
While the Famicast crew are of course always on site in Japan giving you exclusive access to the beating pulse of Japanese gaming, there comes a special time of year when the gaming press of the world flock to Tokyo to see just how it is we give such red hot news discussion. That time is September, and the place is the Tokyo Game Show.
All four of the Famicast regulars attended the show with Danny and Sairus weighing in on virtually all of the various Nintendo games on display. James gives us a look into the various booths on display (which you can also check out on the NWR youtube channel here) and Ty lives to tell the tale of braving the crowds of one of TGS' public days. A special guest/former Famicast member also drops by Freshness Burger in Tokyo with JC and Danny to give his thoughts on the show's offerings.
We also delve into the regular Famicast features with a brief look at what we've been playing at home recently, the news of an unsurprising delay for Star Fox Zero and then a look at Japan's sales charts.
James closes out the show with a special feature on the Mario 30th Anniversary concert also held in Tokyo this week. As a bonus that concert also supplies this episode with all of its musical interludes!
This podcast was edited by Danny Bivens.
Music for this episode of The Famicast is used with permission from 8 Bit Weapon. You can purchase their music and shirts from their website 8bitweapon.com
Additional music for this episode of The Famicast is copyrighted to Nintendo, and is included under fair use protection.
The artwork for the show was designed by Tony Losoya, follow him on Twitter @Tony_Losoya