Super Mario Maker and Disney Inifinty 3.0 coming in at a scorching 100 degrees!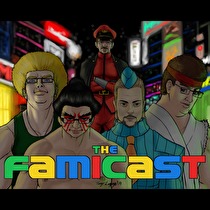 Subscribe via iTunes (Please rate and review, too!)
Kept ya waiting huh? Sorry about that, we've just been busy. Hey, it's a new Famicast, such excitement! That's right, Danny, JC, Ty, and Sai huddle up do talk some Japanese Nintendo videogames.
New business has the inevitable Splatoon, Mario Maker, Disney Infinity 3.0 talk, with Ty bringing the (timely) non-tendo talk about MGSV. Happy with all that? You are more than welcome.
All the fun charts and Japan news is covered as you'd expect, Pokemon Go and that crossover game with the title no one can remember. Want to play a fun game? Guess how many Xbox Ones were sold this week in Japan!
Next up is a special feature all about the Nintendo 64 in Japan! The crew took the opportunity, and the fact that the episode number seemed right, to talk all about the crazy Japan-exclusive games that hit the console. What the hell is a Doraemon anyway? If you're wondering where Danny is during this section, don't worry, he is alive, he just had to step out due to a dangerously high fever. He must have been sick to miss out on a chance to talk about the 64DD!
Lastly we wrap things up with your letters and tweets, as well as a quick preview of the Tokyo Games Show that just started today (Sept 17th). Wondering if any Nintendo games will be at the show? Find out here!
So grab your cool patch and your Disney dance mats, and let's Famicast!
This podcast was edited by Danny Bivens.
Music for this episode of The Famicast is used with permission from 8 Bit Weapon. You can purchase their music and shirts from their website 8bitweapon.com
Additional music for this episode of The Famicast is copyrighted to Nintendo, and is included under fair use protection.
The artwork for the show was designed by Tony Losoya, follow him on Twitter @Tony_Losoya