If you're going to kick it old school, you're going to be out of luck for 3D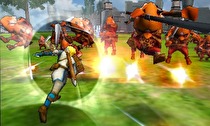 Some new details were announced for Hyrule Warriors Legends in the game's Tokyo Game Show stream.
During the stream, KoeiTecmo announced that due to technical limitations, the ability to run the game in stereoscopic 3D will only be available on the New 3DS. All of the Wii U version's DLC up to release will be included, and most of the content of the Wii U game will be present except for the Challenge Mode.
As it pertains to the Wind Waker characters, physical copies of the game will include codes for the Wii U version that will unlock the characters. Amiibo support has also been announced, but it was not confirmed that it would be anything beyond what the existing Wii U game had patched in.