A couple of walking spoilers will have a run in with Segata Sanshiro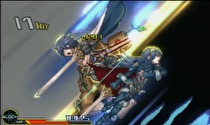 Nintendo characters will be coming to Project X Zone 2 as the crossover continues to get crazy.
Fiora from Xenoblade Chronicles will team with her fellow Xeno character KOS-MOS (Xenosaga Episode 1), while Chrom and Lucina from Fire Emblem Awakening will be a controllable pair in the game. It appears the Fire Emblem pair's ultimate double team move is a reference to the Fire Emblem Awakening cover.
Project X Zone 2 will release in North America on February 16, with European release to follow on the 19th.