The Famicrew dishes out tips for making Mario and cooperating in Zelda!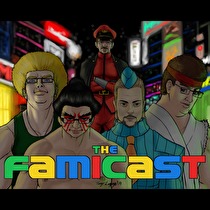 Subscribe via iTunes (Please rate and review, too!)
Your three heroes (and Ty) are back for another insightful look into Japanese Nintendo gaming from a foreign perspective! To start off, in a special segment James, Danny and Sairus give their extremely mixed opinions on the recent stress test demo of Hyrule Heroes. Once they've all finished bitching about how stupid their teammates were, the whole crew discuss what other new(?) games they've been playing this month. Could this be the day that Ty actually plays a Nintendo game? Be sure to check it out!
In the news section we cover the possible issues with the recent Smash Bros Shovel Knight rumor as the game has yet to release here, along with updates on Pokken, Yokai Watch and an exciting look into the world of Nintendo stationary!
Moving along we take a look at some uninspiring sales charts for the week and upcoming releases before Ty dazzles us with another round of the always popular Real or Fake segment.
Before moving onto the letters we also open a new recurring segment on the show where we discuss the latest developments in Mario Maker and our experiences with the game.
It's a pretty packed show, so strap yourselves in!
This podcast was edited by Danny Bivens.
Music for this episode of The Famicast is used with permission from 8 Bit Weapon. You can purchase their music and shirts from their website 8bitweapon.com
Additional music for this episode of The Famicast is copyrighted to Nintendo, and is included under fair use protection.
The artwork for the show was designed by Tony Losoya, follow him on Twitter @Tony_Losoya