Famicast season two begins! Join the crew for a brand new adventure in Japan as good times await!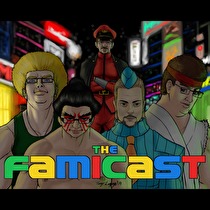 Subscribe via iTunes (Please rate and review, too!)
Welcome to Famicast season two! That's right, we're on our own feed now - the strings have been officially cut from RFN! Thank you to everyone who has subscribed to the new Famicast feed and just remember if you are only subscribed to RFN, you will no longer be getting "the best only Nintendo podcast recorded in Japan in English." That would make us sad pandas.
On to the show! New business starts with our only (tentative) link to Halloween with a classic game only Japanese Famicom / 3DS owners will have played, Devil World. The game that never made it to the west, for obvious reasons, turns out to be a pretty good rival for Pac-man. Listen to Danny's verdict on whether it beats the pill-muncher at his own game.
JC gives impressions of his newly-acquired New 3DS, which he finally got after a failed attempt at launch. Turns out the new features of the system worked better than he expected leading to his conclusion that it is the DS Lite of the 3DS family of systems in his eyes. Danny also tag-teams some updated Smash impressions after he and JC played the game online with their new systems. Does the new console improve connection speed? This is the only podcast in the world to find out how the game and new hardware fare here in their native country!
Ty wraps things up with a rare N64 fighting game, and no it isn't Killer Instinct Gold (although that is briefly mentioned). Find out how one of the few of its kind on the N64 fares against the likes of Tekken et al!
Finally the show finishes up with a return of Life in Japan ™, thanks to a barrage of suggestions sent in by a few plucky listeners. Thanks to them for their ideas, but we'd also like to ask you to keep them coming as we always need Japan-flavo(u)red questions and topics to talk about. Anything you've ever wondered about what it's like to live/game in Japan, send it our way – the answer will most likely be entertaining in some way! Email us at famicast@nintendoworldreport.com, hit us up on Twitter at @thefamicast, or sound off in the talk back thread below!
Subscribe to the NEW STANDALONE FAMICAST FEED - go go go!
This podcast was edited by Danny Bivens.
Music for this episode of The Famicast is used with permission from 8 Bit Weapon. You can purchase their music and shirts from their website 8bitweapon.com
Additional music for this episode of The Famicast is copyrighted to Nintendo, and is included under fair use protection.