There's a little bit of something for everyone on both eShops this week.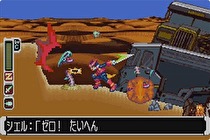 After somewhat of a hiatus last week, the Nintendo 3DS eShop is back offering a number of titles alongside its home console brother. Nintendo's handheld eShop offers a few demos this week, the next entry in the Tales series with Tales of the World: Reve Initia (you can read my impressions of the TGS build of the game here), and the free-to-play online mobile card game from Square Enix, Magnificent Million Arthur. There is a good variety of genres represented this week on the system.
The Wii U also has a few downloadable titles on top of the usual Virtual Console lineup. Stick it to the Man makes its debut in Japan along with Zumba Fitness: World Party (released in the West last November). There are also five titles landing on the Virtual Console service this week, including Bases Loaded for the Famicom and Mega Man Zero for the Game Boy Advance. For a complete look at all of the releases this week, be sure to check out the round-up below.
3DS
Downloadable Titles
Ōkoku no Dōguya-san - 800 yen
Kaku-San-Sei Million Arthur (Magnificent Million Arthur) - FREE
Shōakuma Kokoto no Uchūjin Kuzushi - 500 yen
Puchi Novel - Hadan no Jū Gatsu - 200 yen
Tales of the World: Reve Unitia (retail title) - 5,627 yen (from 10/23)
Custom Monsters Demo - FREE
Cooking Mama: Watashi no Sweets Shop Demo - FREE
Virtual Console
NA (no titles since 5/7)
Wii U
Downloadable Titles
Stick It to the Man! - 1,000 yen
Zumba Fitness: World Party (retail title) - 4,320 yen (from 10/23)
Virtual Console
Babel no Tō (The Tower of Babel, Famicom) - 514 yen
Moero!! Pro Yakyu (Bases Loaded, Famicom) - 514 yen
Rockman Zero (Mega Man Zero, Game Boy Advance) - 702 yen
Salamander (Life Force, PC Engine) - 617 yen
Power Golf (PC Engine) - 617 yen