A look back at the life cycle of a Wii game.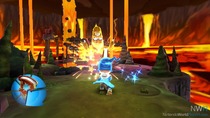 Today's the big day! As I write this (on October 19, 2010), Flip's Twisted World is expected to be hitting store shelves across North America. For us it's the last step in a three-year journey, for players hopefully it's the beginning of many hours of fun. This seems like a good time to reflect on all the stages Flip's went through: the process that all games go through to get from the creator's imaginations and into your hands. As you might expect, there's a bit more to it than:
Step 1: Have Awesome Game Idea

Step 2: ????

Step 3: Profit!
Here's a look at how it usually goes:
Step 1: The Idea


Every game starts with an idea. At Frozen North, most of our ideas come from the whole team talking together – either in a formal brainstorming session in our meeting room, or chatting and joking away as we loiter around the artists' cubicle. It's this collaborative atmosphere where everyone – from new hires to our founder and CEO – has a voice and can contribute ideas as the game takes shape. I think this approach is responsible for our studio's unique style and creativity.
Ideas will also sometimes originate outside the studio, in the form of a publisher RFP (a Request For Proposal). This is where a game publisher has the seed of a successful game – often it's permission to make a game based on an existing series/movie/brand, something we call "licensed IP" – and they need a developer to grow it into a full game. Many developers receive the RFP and are invited to respond with proposals describing what they would do with the game (and how much they'd need to be paid to do it).
Step 2: The Pitch


Even if you're an in-house developer at a large publisher/console-maker, at some point you need to convince the people holding the purse strings that your idea is worth investing in. As an independent studio, Frozen North has to pitch to outside publishers for the funding to get the game off the ground. Pitches can be just about anything, from text/spoken descriptions to a playable game sample, depending how much time and resources you have to put into them. What we've found works best for us is:
A target gameplay video: hand-animated by our artists, this gives a visceral idea of how the game should look and feel. Shinier and more reliable than a demo, with less work.

A pitch presentation: an image-heavy PowerPoint laying-out the game details and business case, including target demographic, platforms, monetization...

A sellsheet: a one-page graphical mini-poster we can leave behind with anyone we talk to, so they have all the info to consider or share with colleagues.
The idea is to give the people you're meeting with all the tools they will need to be your advocate within the publisher. Nobody ever buys a game idea on the spot.
Step 3: The Contract
After passing several "Greenlight" meetings at the publisher, everyone involved is excited about the game and is ready to commit to a business deal. The developer and publisher negotiate a contract that details things like what features are being promised, how much will be paid and on what schedule, who owns various rights at the end of the project, and how to resolve any disputes during the development cycle.
Step 4: Pre-Production
The first milestone in a game's development is usually finalization of the Design Document, the game bible that describes everything that happens in the game and explains how every mechanic works. This is the busiest time for a game designer like me. The art team is similarly busy, compiling the Art Bible that dictates the game's look. Meanwhile, the rest of the team is building-up the tech they'll need for the title – learning/modifying/building the engine that will run the game, and setting up the various tools that will be used to create the game's content. Solid pre-production saves you from surprises later.
Step 5: Development


Once the docs are done and everyone knows what's being built, it's time to go full speed ahead on building the game. This process varies tremendously between studios and even between games, but there are some common milestones to hit:
Proof of Concept: if the title contains any weird & experimental mechanics or systems, the publisher will want to see those tested first. Fortunately with Flip's, we had this done before our original pitch.

First Playable: the first version where someone can "play" the game. Often there's not much to do at this stage, but early physics and controls are there.

Vertical Slice: some studios aim to have a "one of everything" build early-on: one level, one enemy, one weapon, one power-up. The rule is, everything that's going to be in the final game, you should encounter one of it.

Alpha: at this point in a game's development the code is theoretically done. There are bugs to catch but every mechanic/feature should be there. Levels are all present but some art assets may still be missing or unfinished.

Beta: "almost done" – the game's in a reasonably complete state and ready to open-up to a wider group of testers, sometimes members of the public. The aim is to find every remaining glitch or mistake before the game ships.
Step 6: Approvals


A lot of people have to sign-off on the game before going to all the expense of printing copies. First-off, the publisher has to decide it's ready to sell. The ESRB needs to rate the game's content before most stores will carry it. For console games, the console manufacturer then has to approve it. Since Flip's Twisted World is for the Nintendo Wii, it had to pass the inspection of Nintendo of America, followed by Nintendo Japan. They check to make sure the game displays all the right error messages if things go wrong, that it won't crash or lock-up the system, things like that. This is a nail-biting time for developers like us, as the game is out of our hands and it can take up to two weeks to hear anything back. One little glitch at this point can set development back by half a month.
Step 7: Going Gold


Once everyone's given the game their OK, it's off to manufacturing. At this point the game is said to have "gone gold," after the gold master discs that are used as the authoritative source for burning all the retail copies. Actually, I don't know for sure if gold discs are used in today's process, but it's a cool mental image either way.
Along with the game discs, manuals and boxes are printed, and then everything is assembled and shipped off to the retailers. All of this takes another two to six weeks. It's possible that by the time the first boxes arrive in stores, the developer hasn't had their hand in the process for months. The wait can be a bit trying, like a kid eagerly awaiting Christmas morning.
Step 8: Sweet Release
And here we are today. It's just before 9 a.m. here in Toronto on launch day, so I'm hoping that just around the corner an employee at our local game store is putting the last copy of Flip's Twisted World on the shelf, ready to sell to customers when the store opens. This is our first retail release together as a studio, so we're all tremendously excited! From all of us at Frozen North Productions, we hope you too find excitement in Flip's Twisted World.