The anticipation of sweet release.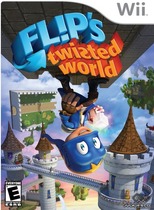 It has been a very long time since we first came up with the game idea that was to eventually become Flip's Twisted World


Humble Beginnings
It all started in the summer of 2007. Frozen North was just about to complete its first full year of operations when we were approached by Microsoft Canada to create a small Xbox 360 game for their upcoming X07 event as part of a showcase of local development talent. This was a spectacular opportunity for us, but there was one caveat: we only had two weeks.
As soon as our meeting with Microsoft was over we huddled in our boardroom and began an all-night brainstorming session that would result in the very first design iteration of a game that would become Flip's. We had decided to leverage a game mechanic envisioned by our lead designer, Doug Gregory, back when he was in college. The game was to be a slow-paced puzzle game involving clean, Escher-inspired worlds with the core idea being that with a flick of the analog stick the world would rotate. There was to be a limited amount of enemy interaction that were mostly conceived as puzzle hazards. At this point in time there were no real platforming elements involved.
I still don't know how we managed it, but in two weeks we had a game (complete with a working in-game level editor). The event went spectacularly well and the general response was that we should refine the concept further and pitch an Xbox Live Arcade title.


The Prototype
After the event we were, for lack of a better word, pretty stoked. Our original demo made use of clean, minimalistic environment shading and 2D sprites for dynamic objects. We knew we could do better, so we immediately began development of an XBLA prototype with full 3D assets and an increased gameplay pace. The design was still heavily rooted in spatial-puzzling at this point, but it was clearly becoming more of a real game.
We spent four months developing this prototype to a stage where we felt comfortable taking it out to publishers. Coincidentally, around this time we received an email from Majesco soliciting registered Wii developers for game concept submissions. We followed up quickly with our pitch document and gameplay video and Majesco invited us out to present the game in person at their green-light meeting.
Enter the Wii
Coming into the Majesco meeting, we realized that a few things about the pitch needed to be changed if we were planning to develop it for the Wii. After some reflection it became obvious to us that the Wii's motion controllers would be an ideal interface for rotating the world and would be a really neat gameplay hook.
In preparation for the meeting we updated the PC version of the demo to make use of a Wii Remote and Nunchuk controller via a custom Bluetooth stack and implemented a very rudimentary version of the world-rotation algorithm. This was definitely a bit of a trial but worth it in the end for the authenticity it gave to the demo.
Sometime early January we flew out to Edison, New Jersey and gave our pitch demo in-person to the Majesco green-light committee. The meeting went well and a few months later we'd negotiated and signed a deal for a retail release on the Nintendo Wii.


The Long and Winding Road
up&dn, which eventually became Flip's Twisted World, is our very first console title as a company and the very first time developing for a Nintendo platform for the entire team. Development of the game was long and arduous and a lot of lessons were learned over the two year-long cycle.
For the majority of the development cycle we were a team fluctuating between seven and nine full-time staff with no experience on the platform. With a team that small, development involved a lot of late nights, weekends, and even holidays to reach the level of quality we wanted for our first retail title.
Development became easier as we gained experience working with the platform. With each passing month, we learned how to push more polys, how to achieve better visual effects, and tricks to make the Wii processors handle the heavy visual and computational loads we were throwing at them.
Throughout development we also learned a lot about scope and feature management, having cut quite a bit of proposed content and features in order to make our deadlines. In the end, though, we think the game is better off being the size and scope that it ended up as, but we definitely took away a lot from the experience.
The Finale
It's been a long time since we signed that initial contract with Majesco, and with the game a mere day from release, there has been a lot of reflection on the entire process.
While there were slips, pitfalls, and hard lessons learned, our team put the entirety of our love of platformers, our passion for games and our enthusiasm for Flip into our development. No matter how we are received critically, Flip's Twisted World contains the blood, sweat and tears of every single member of our development team and it is our hope that you will share in our excitement and have fun playing.
We are very proud of what we have accomplished with the development of this game and we are taking every single lesson we have learned over the course of development and putting our experience, passion and dedication into our next project.
We at Frozen North hope that you enjoy playing Flip's Twisted World. If we can make you smile and have you coming away from it having enjoyed the experience, even in some small way, then we will have accomplished our goal.
Look out for another blog post next week!