Having a hard time tracking down a copy of Galaxy today? Listen to this podcast!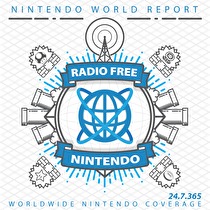 Subscribe via iTunes (Please rate and review, too!)
Personally, I'm playing Fire Emblem. But apparently some game called Super Mario Galaxy came out today (kinda)?
The return of the two-person podcast!


Super Mario Galaxy shipped to stores today, so Evan and I thought it'd be pretty rad to put out a Special Edition Radio Free Nintendo all about the game. This one's a bit of a shorty (clocking it at just under a half hour), but we discuss a whole lot. From Evan's hurdles in actually buying a copy to our thoughts on review scores to some meaty impressions, there's a lot to be had here.
Because we're freaking insane, this doesn't even count as this week's RFN! There's going to be another episode going up later in the week, so you'll want to check back then.
See ya on Thursday, folks!
Credits:
This podcast was edited by Karl Castaneda.
Music for this episode of Radio Free Nintendo is used with permission from Jason Ricci & New Blood. You can also purchase their new album, Rocket Number 9 directly from the record label, or call your music local record store and ask for it!