Evan returns to sabotage the festivities! This episode is guaranteed to make you laugh, or your money back.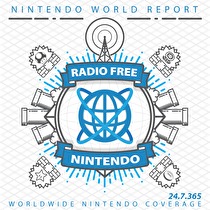 Subscribe via iTunes (Please rate and review, too!)
This is why we try to avoid four-man podcasting.


This is our fifty-second RFN podcast, and not only is that how many weeks are in a year, but in a bizarre quirk of scheduling, it has actually been one year since our first episode aired. Mike Sklens and Evan Burchfield fired up this crazy train on May 17, 2006, and thanks to a miracle and endless begging, Evan and Mike are back together again on this birthday edition. Joining the co-founders are the latter day podcast gurus, Karl Castaneda and Jonathan Metts.
We don't often record with four people, and this week you may hear why. It's a veritable cacophony at times, but the talk soup (or chat stew?) also yields degrees of hilarity rarely achieved on these airwaves.
The show starts with blooper-filled introductions and some twenty minutes of what we've been playing, which of course includes Pokemon and a lot of Wii. We breeze through community features and spend a bit more time on last week's "E3-But-Not" news explosion. The feature discussion is an RFN retrospective, naturally, and it quickly devolves into name-calling and hysteria, naturally.
Of course, in our excitement to have Evan once again held mercy to our verbal abuse, we forgot to thank the most important people in this production -- you, the listeners! Wa-hey, my microphone is sinking into the floor! The orchestra is drowning me out! My courageous donning of a red and yellow ribbon to support righteous cause X has in fact accomplished nothing! Goodbye, sweet world...
Credits:
This podcast was edited by Mike Sklens. Commercial performed by Jonathan Metts.
Music for this episode of Radio Free Nintendo is used with permission from Jason Ricci & New Blood. You can also purchase their album directly from the iTunes Music Store