More Metts. More songs. More satisfaction.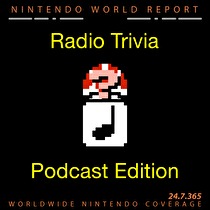 Subscribe via iTunes (Please rate and review, too!)
This week we have a special episode of Radio Trivia hosted by Jonathan Metts and myself. First off, we have six games this week. Secondly, all six games, including most songs and questions, were hand-picked by NWR forum mafia winners 18 Days and Thatguy. Sit back and enjoy the music or challenge your game knowledge—it's your call!
Love a game or song choice? Think something could have gone better? Critique your fellow listeners' picks in the Talkback thread! Even better, pick your own game and send it my way—your request may show up as the third game next Radio Trivia: Podcast Edition! Heck, throw in a question and specific songs if you want. Just remember, it has to be a game found on a Nintendo system in North America!
Don't forget to check back with us next week when we play the live version of Radio Trivia in our chatroom. If you like this, you'll probably like the live version even more!
Credits:
This podcast was edited by Michael Cole.
Music for this episode of Radio Trivia: Podcast Edition is used with permission from Jason Ricci & New Blood. You can also purchase their album directly from the iTunes Music Store.
All game music used during Radio Trivia is copyright their respective owners.