Now with more tangents than that fourth derivative.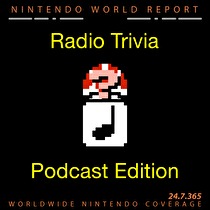 Subscribe via iTunes (Please rate and review, too!)
Radio Trivia returns to the standard five-game format, only now with the promised listener request! Did we pick your game? You'll have to listen to find out!
If you have a game request, don't hesitate to send it my way—your request may show up as the third game next Radio Trivia: Podcast Edition! Include a question for the game or specific songs, if you fancy. Just remember, it has to be a game found on a Nintendo system in North America!
For those interested, below the podcast credits are the videos Jonny mentions after the final game in this week's Radio Trivia: Podcast Edition. Don't peek before listening unless you want an extra hint!
Credits:
This podcast is hosted by Jonathan Metts and Michael Cole and edited by Michael Cole.
Music for this episode of Radio Trivia: Podcast Edition is used with permission from Jason Ricci & New Blood. You can also purchase their album directly from the iTunes Music Store.
All game music used during Radio Trivia is copyright their respective owners.