Two hidden object games in one week. What else could you ask for?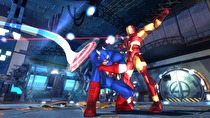 Retail releases are bountiful this week as both the 3DS eShop and Wii U eShop see the release of four new retail titles onto their digital shelves. A few demos, DSiWare games, VC releases and an eShop title round out this weeks Nintendo Downloads.
eShop Retail Releases:
3DS eShop Retail Releases
Scribblenauts Unlimited
LEGO Lord of the Rings
Harvest Moon 3D: A New Beginning
Classic Games Overload: Card and Puzzle Edition
Wii U eShop Retail Releases
Ben 10: Omniverse
Family Party: 30 Great Games Obstacle Arcade
Marvel Avengers: Battle for Earth
Rise of the Guardians: The Video Game
3DS eShop Games:
Murder on the Titanic- $4.99
JoinDots' second venture onto the 3DS eShop brings us a hidden object adventure game that takes place on board, you guessed it, the Titanic. Travel through 50 scenes taken from the Titanic. Throughout your journey you will engage in an interesting story throughout six chapters as you try to solve a murder.
Fractured Soul - Free Demo
Venture into the first world of the game in this free demo of September's old-school platformer. Jump and shoot on both the upper and lower screen of the 3DS. With online rankings and different gameplay variations, this may be the game for you. Check out Nate's review of Fractured Soul here.
Wii U eShop Games:
FIFA 13 - Free Demo
The first demo to land on the North American Wii U eShop is here. Download and enjoy a soccer match while taking advantage of the unique features the GamePad offers. The demo allows only 10 tries though, so use them wisely. Check out our review of the game here.
3DS Virtual Console Games:
Mighty Bomb Jack - $4.99
Make your way through a pyramid to defeat a demon and rescue the royal family. This NES game doesn't have the most original story, but does feature power-ups and hidden treasure chests. Be careful in how much you collect though—if you gather too much you are sent to a torture room from which you must escape. Upon exiting this room you have to restart from the beginning of that level.
DSiWare Games:
Crystal Adventure - $1.99
Take on the role of the most famous bounty hunter in the kingdom in Crystal Adventure. Being famous here doesn't earn you celebrity status, but rather a more dangerous job. You are tasked with stopping monsters from fully summoning a demon who could destroy the world. Power up as you fight your way through a tower to stop the summoning ritual.
Christmas Wonderland 2 - $7.99
It is that time of year again when everyone is in the holiday spirit. Santa and his elves are hard at work preparing to get all the toys delivered. Santa does need your help, though. Complete mini-games and find hidden objects in the colorful Christmas -themed areas throughout the game.
Wii Virtual Console Games:
BurgerTime - 500 Wii Points
BurgerTime puts players in control of chef, Peter Pepper. The goal here is to build burgers, but unlike many modern food simulation games, you don't cook it. Navigating a series of ladders and platforms, Peter must walk on top of ingredients to make them fall to the level below, and eventually onto the burger. Be careful though: Mr. Hot Dog, Mr. Pickle, and Mr. Egg are all trying to stop you.