Rhythm Thief will be out in Australia early in April.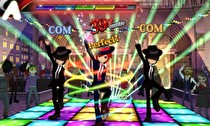 Rhythm Thief & the Emperor's Treasure has been announced for release in Australia on the Nintendo 3DS on April 12, 2012.
Rhythm Thief features over 50 different rhythm-based challenges, making use of a number of different inputs on the 3DS. The touch screen, different button inputs, stylus and gyro controls all must be used in conjunction with the various musical beats. The game also features both local wireless and download play options.
A playable demo is also currently up on the eShop for people to try the game for themselves.