In Canada, Black Friday is the day Gary Bettman was named NHL Commissioner.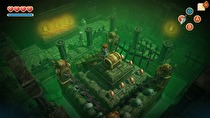 The march of progress continues as Black Friday becomes a bigger deal for Canada as well. Although we don't get the day off, and we celebrated Thanksgiving at the proper time in October, so you decide why it's a thing.
There's one Canadian retailer on here that might surprise those who know it, so please check your local Real (blank) Superstore to see if they still carry electronics before bumrushing the store for a $375 no-tax Switch on Friday. The rest of the Canadian retail offers are below.
Walmart: $40 1-2-Switch and Dragon Ball Xenoverse 2, $49.99 Mario + Rabbids Kingdom Battle
The Source: "Select gaming software" will be $49.99 online Friday; no Switch software shown in the ad, though.
Real Canadian Superstore: No tax on electronics (including games) Friday: Switch $399.99 with $25 GC, Super Mario Odyssey $69.97, FIFA 18 $49.97
EB Games: $49.97 FIFA 18, $44.99 Binding of Isaac Afterbirth+ or Sonic Forces, $39.99 Just Dance 2018 (Switch), $32.99 Dragon Ball Xenoverse 2, $89.99 2DS bundle (New Super Mario Bros 2), $10 off all Nintendo Selects, $39.99 Cars 3 (Switch), $54.99 Disgaea 5 Complete
Best Buy: FIFA 18 $49.99, Fire Emblem Echoes: Shadows of Valentia / Mario Kart 7 $24.99, 2DS New Super Mario 2 bundle $89.99, Skylanders Imaginators Starter Kit $39.99, 128GB Samsung microSD card $59.99
Toys 'R Us: $89.97 2DS w/Mario Kart 7, $10 off Nintendo Selects, $49.97 Just Dance 2018/FIFA 18/NBA 2k18
London Drugs: Free controller skin with Splatoon 2 purchase, $29.99 Just Dance 2018/Lego City Undercover/Troll and I, $34.99 Puyo Puyo Tetris/Binding of Isaac Afterbirth+/Sonic Forces, $39.99 Super Bomberman R/Dragonball Xenoverse 2/Cars 3: Driven to Win, $49.99 Disgaea 5 Complete, Lego Ninjago Movie The Video Game, FIFA 18