Round one - FIGHT.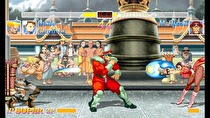 The quietest day of the year in the United States (family political disagreements and alleged football games notwithstanding) is immediately followed up by one of the rowdiest: Black Friday.
Thanks to a fluke in the calendar, this is one of the earliest possible dates for Nintendo to get all of their retail ducks in a row. Switches seem attainable, there's plenty of recent games to choose from, and you can fill in the back catalogue that you might've missed earlier in the year. Although Nintendo's own focus is on new ways to get MSRP out of you Friday with the Breath of the Wild Explorer's Edition and the Zelda 2DS, deals aplenty await.
And for some inexplicable reason, the rest of the continent is getting in on this action too, so we've combed the flyers and feeds to bring you the best of what awaits for Switchmas II.
Standard disclaimers apply: Amazon will have its own calendar and will be matching a lot of these deals. Best Buy's Gamer's Club Unlocked does NOT apply to anything listed, but Target Red Card (5% off) does. Recommended social media follows for the weekend: @Wario64 (we agree with Suda 51 on this, he might be a bot) and @videogamedeals for the US, @GameDealsCanada and @lbabinz for Canada.