Players hoping to play classic Game Boy Advance games on the 3DS might have to wait a little... UPDATE: or not.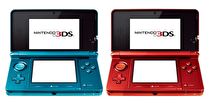 The free Game Boy Advance games promised to early adopters of the 3DS (known as Ambassadors) may be delayed into 2012, according to information from conflicting Nintendo of Europe pages.
Different language versions of the 3DS Ambassadors page on the Nintendo of Europe site give conflicting details on the arrival of the games. The Spanish and German sites say that the games will not arrive until next year, while the English, French, Dutch, Italian, and Portuguese sites claim this year for delivery. The pages were all updated on October 14, so there is a good chance the later date is due to a translation mistake.
The Game Boy Advance games were promised to be released near the end of the year. The first batch of Ambassador games, the NES titles, have already been made available.
The following games have been confirmed to be part of the lineup:
- Mario Kart: Super Circuit
- Yoshi's Island: Super Mario Advance 3
- Metroid Fusion
- WarioWare, Inc: Mega Micro Game$
- Mario vs. Donkey Kong
The remaining five have not yet been announced.
Update: The Spanish and German pages have been updated to match the other language versions, confirming that the original translation was a mistake. Nintendo UK also reiterated that the titles will be arriving this year.