TYP hops in to talk up lots of games and help us pick apart the Nintendo Direct event where 3DS XL was announced.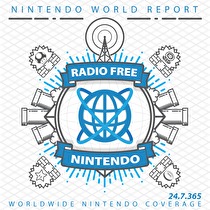 Subscribe via iTunes (Please rate and review, too!)
Jon is on vacation this week, but our good friend Michael "TYP" Cole stepped in and even brought some New Business with him. Mike catches up with the brilliant Portal 2 and a classic portable jam, Game & Watch Gallery 2. Jonny reports on the Kingdom Hearts 3D (awful subtitle omitted) demo, gets really angry at a late boss in Xenoblade Chronicles, and gives quick impressions of the bizarre Tomba as referenced last week. James is still deep into Pandora's Tower and evaluates the game's chances of an American release. Finally, our faithful editor Guillaume packs in more Infamous 2, the retail-to-eShop game Order Up!, and the overlooked party masterpiece that is WarioWare: Smooth Moves for Wii.
After a quick break, we look back at last week's post-E3 Nintendo Direct event. Why did it happen so soon after the last one and all those E3 media briefings? Where was the 3DS XL at gaming's biggest showcase, anyway? Are we planning to buy the new mega-sized system? How does the extra heft jive with our StreetPass obsessions? What's the deal with Namco-Bandai helping Masahiro Sakurai on the new Smash Bros. games? What can we expect from the New Super Mario Bros. 2 downloadable levels, and how much should they cost? Most importantly, do the full-game purchases, Virtual Console promotions, weekend sales, and a new Vice-President mean that Nintendo is finally realizing the dream of eShop? We cover all this and more -- it's a very interesting time to be a Nintendo fan!
We'd love to hear what you think of the recent news and our discussion of all the action, so "hit up that kind of rush" by sending an email to RFN -- we may read it on the show! Another great way to participate is by voting on the next RetroActive game, which we'll play together along with the community for a future episode. The poll closes soon, so vote now or read through the forum thread if you need help deciding.
This podcast was edited by Guillaume Veillette.
Music for this episode of Radio Free Nintendo is used with permission from Jason Ricci & New Blood. You can purchase their newest album, Done with the Devil, directly from the record label, Amazon (CD) (MP3), or iTunes, or call your local record store and ask for it!
Additional music for this episode of Radio Free Nintendo is copyrighted to Nintendo, and is included under fair use protection.