New Super Mario Bros. 2's developers will make new Coin Rush stages for the game after its release.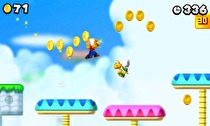 Nintendo announced that New Super Mario Bros. 2 will feature paid DLC after its release.
The downloadable content will contain new Coin Rush stages created by the team after the game is out. The team will use feedback given to them from players to create new stages. Since, as Nintendo of America President Reggie Fils-Aime said, they don't even know what the content will be right now, there are no firm details yet.
Coin Rush is a new mode in the game that challenges players to complete three stages on one life while collecting as many coins as possible. They will be able to StreetPass friends to compare scores.
New Super Mario Bros. 2 is coming out on August 19 in North America, July 28 in Japan, and August 17 in Europe.